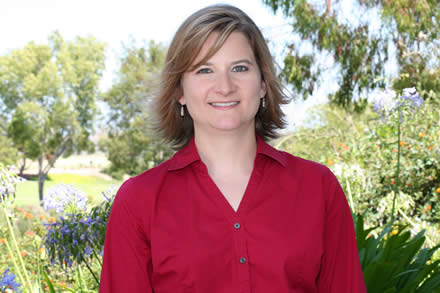 Astronomy Instructor
As an undergraduate student, Rica French enrolled in an astronomy course simply to fill a hole in her schedule. Her experience in that course followed by a summer job at an observatory on Nantucket Island, Massachusetts convinced her: Astronomy is the coolest thing on the planet.
Rica went on to earn a bachelor's degree in physics from Middle Tennessee State University, a master of arts in astronomy from the University of Texas in Austin, and is currently working on her doctorate in astronomy. She has taught at both Middle Tennessee State and the University of Texas; MiraCosta is her first full-time teaching post. And it seems a perfect fit. MiraCosta was seeking someone to develop a lab course, which is just what she'd been doing for four years in Texas. The new course, Astronomy 101 Lab ("science for non-science people") began in fall 2005. In addition to teaching, Rica plans to continue hosting regular telescope viewings for students as well as community members.
"I love sharing this with people," Rica says. "When someone looks through a telescope for the first time, the uninhibited response that comes out--that's the best thing!"