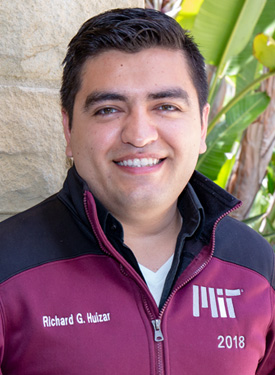 Richard Huizar wasn't planning to attend MiraCosta College. But that changed when the San Marcos resident found he couldn't afford his first choice, San Diego State University.
As it turns out, enrolling at MiraCosta College was one of the best moves Huizar has made in his young life. He graduated in May 2014 as an Honors student with a 3.9 GPA, served as a student ambassador for the college, and president of the Soccer Club. The applied mathematics major, who held down three campus jobs, was on the President's List, scored a perfect 800 on the SAT subject tests in math and physics, and now is at MIT. And Huizar's accomplishments did not go unnoticed--he was also a finalist for the 2014 Latino Champions Awards hosted by U-T San Diego.
"MiraCosta College was my educational destiny," Huizar said. "It is an amazing place with a positive environment and excellent faculty and staff. It gave me an opportunity to transfer to a great four-year program and showed that I can do anything I wanted."
To help with his educational goals, Huizar had the opportunity to earn a couple of scholarships for which he is very thankful. Huizar received the Osher Scholarship and the Hank & Kathleen Jolly Memorial Endowed Scholarship from MiraCosta College, which helped him with other school expenses and more importantly, to save up for MIT.
"Without scholarships, I would not have been able to put the emphasis on my education that I have thus far," Huizar said. "Each scholarships gave me that little nudge to keep pushing forward. I know without scholarships I would not have been able to have done as much as I did at MiraCosta."
"MiraCosta has given me the possibility to obtain any goal I would like and has given me every resource to grow academically and personally."
Huizar was an honor student at Mission Hills High School in San Marcos and was set to attend San Diego State. When financing fell through, he toured MiraCosta College with Lisa Montes, the college's student services specialist in the Office of School Relations & Diversity Outreach.
"He is the most humble young man you will ever meet," Montes said. "He also is solid academically and a great role model."
Huizar was plenty busy at MiraCosta. One of his jobs was as a specialized tutor in EOPS/CalWORKs helping underprivileged and underrepresented students in lower-level mathematics courses.
"Some of these people have failed these classes before and are about to give up, so it's great to see them succeed," Huizar said.
As a student ambassador, Huizar represented the college at area high schools and community groups, and worked as a tutor for students enrolled upper-level differential equations mathematics courses.
"He is diligent in everything he does and he is always willing to help others," Montes said.
Huizar was the first in his family to graduate from college. "I want to show my younger family that higher education and their dreams are possible; a matter of course, not something out of reach for us."
"I'm going to miss MiraCosta," Huizar said. It was my home away from home. I was there all the time."