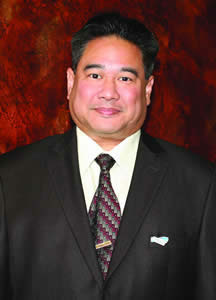 MiraCosta College Nursing Instructor
MiraCosta College nursing instructor Roland Estrella has earned several awards for his teaching, including a certificate of special congressional recognition from Congressman Bob Filner. Most recently, Estrella garnered a major honor—he was named 2011 Educator of the Year by the Philippine Nurses Association of San Diego.
Estrella began in the healthcare field while serving in the United States Air Force Reserve at March Air Reserve Base near Riverside. When he left active duty in 1991, he cross-trained as an operating room technician/field medic and worked in the Post Anesthesia Care Unit at UCSD Medical Center in Hillcrest. For the next two decades, Estrella continued working in the health profession, where he gained a reputation for his calm and caring approach.
Estrella holds a bachelor's degree in nursing from San Diego State University and a master's degree of nursing from the University of Phoenix. He was inspired to become a college instructor by his mentor, Rita Barden, MiraCosta College's lead nursing instructor and the recipient of the 2011 Nursing Education Award for Excellence from Point Loma Nazarene University.
Estrella joined the MiraCosta College faculty in 2007 as an associate instructor working in a clinical setting with the LVN-to-RN Step Up Program. His classes focus on advanced medical-surgical, nursing preceptorship and pharmacology. He has also taught at Southwestern College and Grossmont College, where he served as assistant director of nursing.
Estrella is known for going the extra mile to help students achieve their nursing career goals. "I want to actively participate in students' decisions to become nurses, so they can deliver the best patient care," he says.
One of the accomplishments of which he is the most proud is when two MiraCosta College English as a Second Language nursing students he tutored passed the national board exam and thanked him for helping them overcome many hurdles.
"I want to find ways to link educational material to a student's career goal of nursing," he says. "That's what people come to MiraCosta College for. The college experience is the positive outcome that encompasses their journey from 'day one' until they achieve their goal."