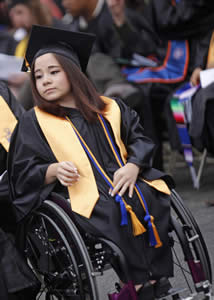 Rosie McDonnell-Horita is a fighter for the disabled.
The 2013 MiraCosta College graduate lives with osteogenesis imperfecta, also known as "brittle bone disease," a condition that has led McDonnell-Horita to use a wheelchair and undergo multiple surgeries.
She was a 16-year-old high school junior in Vista when she became an advocate for the disabled community. That's when a friend told her about the California Youth Leadership Forum comprising 60 youths with a range of disabilities from around the state. The students were sent to Sacramento to meet with an array of state officials and legislators over five days.
"It really opened my eyes," McDonnell-Horita said. "I saw that people with disabilities could do anything if they were organized. It really motivated me to become more involved."
That involvement continued and in 2012, McDonnell-Horita was one of just 30 interns from around the country chosen to spend 10 weeks in Washington, D.C., to take part in a prestigious program sponsored by the American Association of People with Disabilities.
Interns were matched with an array of nonprofits and government agencies, enabling them to "receive hands-on work experience and mentoring, which prepare them to succeed in the workforce," according to the AAPD website. "In Washington, D.C., internships have become a standard part of any resume, introducing motivated students and recent graduates to professional networks upon which they build their careers."
McDonnell-Horita interned with the Japanese American Citizens League, where she helped coordinate various events for the group's national convention and connected representatives from the Japanese American Citizens League with representatives in the disability community. She also shadowed the organization's executive director, and helped coordinate the Japanese American group's participation in celebrating the 50th anniversary of the March of Washington.
"I learned a lot about networking. D.C. is all about exchanging business cards and making connections." She secured numerous acquaintances and friendships that she hopes could lead to different internships and job possibilities.
Most of all, though, "it made be aware of how strong the disabled community is."
McDonnell-Horita graduated from MiraCosta College in May of 2013 and now studies sociology, with a concentration in social inequality, at UC San Diego. She hopes to earn a master's degree and Ph.D., and perhaps go to law school. "I do know I want to stay involved in disability advocacy."
Connie Wilbur, MiraCosta College's faculty director with Student Accessibility Services, said McDonnell-Horita will succeed in whatever she sets out to do. "She has never let her disability get in her way and she has been an effective ambassador in showing people that a disability does not mean the end of your life."
McDonnell-Horita said it was because of the efforts from people such as Wilbur that her years at MiraCosta College were so rewarding.
"I love MiraCosta College," she said. "Counselors there were always helpful. They are always looking out for you. They want to see students succeed, and they will move mountains to get it done."
In fact, McDonnell-Horita shone at MiraCosta College and was in the Phi Theta Kappa honors society during her last year at the school. Her efforts were rewarded with a MiraCosta College Foundation scholarship.
"The MiraCosta Foundation scholarship allowed me to continue my goals not only in an educational sense, but they also helped me create a sense of community and family through the college," she said. "I am very grateful and honored to have received the funding assistance through the Foundation. I never doubted the college's support in my educational dreams, and with their financial backing as well, I knew that nothing could stop me from achieving my goals.
Meanwhile, McDonnell-Horita will continue advocating for the disabled community. Among the many efforts in which she is involved is YO! Disabled & Proud, a group that organizes and educates youth with disabilities.
"In the short time that I've been involved and hearing people who have worked on the Americans with Disabilities Act, it seems like there has been a lot of progress made. But at the same time, there's still a lot to be done. There's still a lot of stigma, there are still a lot of people who think people with disabilities are helpless. A lot of people remain unaware."
"Although we've made a lot of progress, there is still a lot that needs to be done."