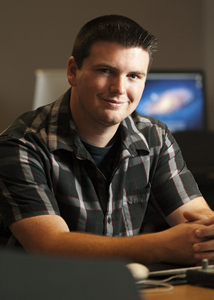 MiraCosta College music student Russell Wilson won the San Diego County title of Youth of the Year for the Boys & Girls Clubs of America and was also recently named California Youth of the Year — the highest honor a Boys & Girls Club member can receive.
"Russell is just an incredible person who has overcome a lot of obstacles in his life to get to where he is," said Matt Koumaras, executive director at the Boys & Girls Clubs of Vista, where Wilson has been an active member since he was about 7 years old. "The younger kids really look up to him. A lot of those kids are in the same spot he was in and see him as an inspiration."
Wilson's parents struggled with various issues when he was young and Wilson said he found solace at the Boys & Girls Clubs of Vista. "It gave me a stable place to come after school," Wilson said. "It gave me stability and provided me with a place that was free of the distractions I was getting at home."
It also is where Wilson was introduced to karate, which would become a lifelong passion. Wilson has obtained a second-degree black belt in Okinawan Shorin-ryu and a first-degree black belt in Okinawan Kobudo, which is the weapons system of Okinawan martial arts.
When Wilson was moved to a foster home, his foster parents – who would later adopt him – encouraged him to continue his Boys & Girls Clubs activities. Shortly after he turned 18, Wilson began working at the Boys & Girls Clubs of Vista teaching guitar and music appreciation, while running a rock band program.
Wilson began playing the flute in his middle school band and plays a number of instruments, including steel drums and piano. He is earning a degree in music performance at MiraCosta College and hopes to transfer next year to UC Santa Cruz or Cal State San Marcos en route to a career of teaching music.
He said MiraCosta College has been instrumental in his development.
"Everybody there is so accommodating," Wilson said. "It has a great culture and the professors there have elevated my skills in music theory tremendously. It's just a fantastic music program. A phenomenal music program."
Wilson and other Boys & Girls Club winners will tour Sacramento to meet Gov. Jerry Brown and other state officials later in April before traveling to Redwood City to meet with eight others competing for the statewide Youth of the Year title in May. The statewide event includes interviews, a public speaking element and essays. State winners receive a $1,000 scholarship and participate in regional competitions. Five regional winners each receive a $10,000 scholarship and compete on the national level. The National Youth of the Years receives up to an additional $50,000 scholarship and is installed by President Barak Obama.
"I'm super excited," Wilson said.
Koumaras is among Wilson's biggest fans.
"He's one of those really special kids who you could tell is very different than anyone else as soon as you meet them," Koumaras said. "He's just a really caring, selfless, confident individual."