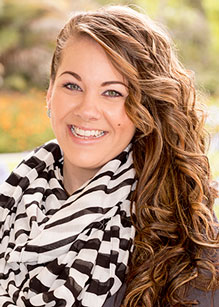 Webb is a foster youth student who has achieved tremendous success against all odds.
When she was a young teenager, Samantha Webb's mother passed away unexpectedly. The 13 year old, along with her 10-year-old brother, Thomas, packed up their bags and moved from central to southern California to live with their father.
The stint with their dad was anything but pleasant. The trio moved from hotel to hotel while their father, a methamphetamine addict, often left Samantha and Thomas alone to fend for themselves. When he was there, he was mentally and physically abusive. Soon, the two children found themselves a new home, in foster care. Unfortunately, they couldn't stay together—Samantha was sent to live in Oceanside and Thomas ended up in a group home in San Diego.
Despite her intense challenges and struggles, Samantha thrived at Oceanside High School, where she earned a 3.8 grade point average and became involved in basketball, volleyball, and track-and-field. She earned a high school diploma and was accepted to a four-year university with a partial scholarship. Not wanting to leave her brother behind, she declined the offer and chose to attend community college.
While at MiraCosta College, Samantha became involved with the EOPS Program, which she said kept her connected, committed and focused. She also worked at Casa de Amparo, became a preschool teacher, and now works as a compliance coordinator for Genentech.
Graduating from college means the world to Webb, whose mother had nearly completed an associate degree in psychology before her untimely death. Samantha vowed to fulfill her mother's dream by earning an associate degree herself.

Samantha graduated from MiraCosta College with a degree in liberal arts with an emphasis in social and behavioral sciences and transferred to CSU San Marcos, where she majors in business.