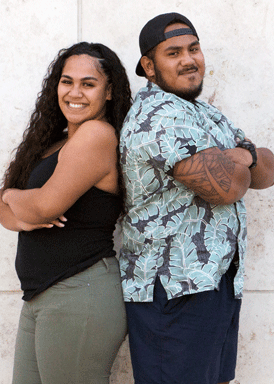 Meet Sana and Fa'tatauva'a Wong, your daily dose of inspiration.
Raised with nine other siblings by a financially struggling single mom who moved with her children from Samoa to Oceanside in search of opportunity, Sana and her older brother, Fa'tatauva'a, have become the first in their family to graduate from college.
Brother and sister overcome seemingly insurmountable odds and are now enrolled at Cal State San Marcos continuing to pursue their dreams while awakening educational dreams in others.
"They are both incredible role models who are going to go far in life and who are just wonderful, wonderful human beings," said Lisa Montes, a Student Services specialist at MiraCosta College who has served as a mentor to the siblings.
Sana and Fa'tatauva'a credit MiraCosta College for pushing them to succeed."The faculty is amazing," said Sana Wong. "They not only get to know you as a student, but they get to know you on a personal level, too."
Fa'tatauva'a agreed. "I call it MiraCozy College," he said. "The professors, the faculty, the staff, they all care about their students' lives and they want to make sure students are well accommodated. The services to help you succeed are there. It is a very supportive atmosphere."
Fa'tatauva'a's journey to MiraCosta College was a circuitous one. After arriving in Oceanside about a decade ago with a mission to focus on his education, Fa'tatauva'a graduated from Oceanside High School and set college in Denver in the fall of 2011, but returned home a few months later.
"I didn't want to leave my mom alone," he said. "We weren't financially stable."
He quickly enrolled at MiraCosta College, took part in the First Year Experience and Extended Opportunity Programs and Services (EOPS), and worked as a student ambassador, touting the benefits of the college to high school students around North County. The MiraCosta College Foundation awarded him an Osher Initiative for California Community College Students Scholarship totaling $1,250 over three semesters for his dedication and hard work in inspiring others.
Graduating with an associate degree in psychology in 2014, Fa'tatauva'a transferred continue his studies. Now 22, he is set to earn his bachelor's degree and teaching credential in the spring of 2016 before setting out for a teaching job with a local school district.
"A good education can bring people out of poverty," he said. "I want to help others get the same kind of education I received. I want to help make a difference in other people's lives."
Sana Wong, the younger sibling by one year, made the President's List and graduated from MiraCosta College in the spring of 2016. She, too, took part in the First Year Experience program and served as a MiraCosta College student ambassador. She was awarded an Elizabeth Reid Memorial Endowed Scholarship for $1,000 and an Asian Pacific Islander Scholarship in the same amount from the MiraCosta College Foundation for her many efforts, including working with youth councils in motivating first-generation Americans to pursue their education and promoting her Samoan heritage at local festivals.
Jose Mota, Student Services Coordinator for EOPS who first got to know the Wongs through the First Year Experience program, said the siblings flourished at MiraCosta College in large part because they weren't afraid to ask questions about the resources available to them.
"A lot of students are a little shy about looking into what we have to offer, but Sana and Fa'tatauva'a were go-getters, and because of that they learned how to navigate the system very well," said Mota, who added he is also impressed by their efforts to help others.
"They both want to give back to the community," he said. "They both want to help students who have come from similar challenges and similar circumstances."
Sana has her sights set on a bachelor's degree in psychology and becoming a college counselor.
"It's been a long struggle," Sana said. "It was especially hard for my mother. But it's very satisfying to be where we're at right now."