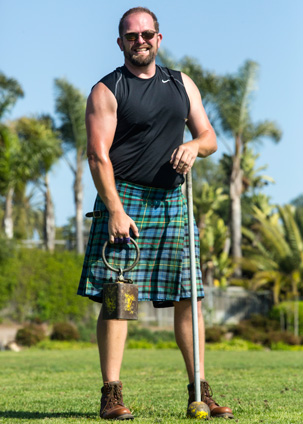 Associate Faculty - Business Department
You can't help but notice MiraCosta College associate instructor of business Sean Smith—especially in the classroom.
"I have a fond place for community colleges," said Smith, 40, who stands at 6'5" tall, weighs 280 pounds and can throw a 16-pound hammer 113 feet.
A champion of community college education, Smith is also a Scottish Highland Games champion.
In 1997, after graduating from a community college, Smith transferred to University of La Verne and earned an undergraduate degree in behavioral science in 1999. He later went on to earn an MBA with an emphasis in marketing in 2001, also at La Verne.
Smith, a lifelong athlete, participated in various sports throughout high school and college including baseball, football, basketball, and track and field. This competitive nature continued even when most people would have considered him past his prime.
"I was 35 years old when my former track coach at La Verne asked me if I wanted to come back and throw for the team," said Smith. "That was my first taste competing in field games."
His participation grew when he learned about the Scottish Highland Games from fellow teammates. He was later invited by competitors of the Scottish Highland Games to practice sessions in Encinitas. Smith thrived, and in less than one year, advanced through the ranks and moved all the way up to the A-level where he now competes.
The annual Scottish Highland Games is an ancient Scottish tradition that was first played in Scotland more than 1,400 years ago. It features feats of strength with competitors throwing braemar stones, pound hammers, pound weights and cabers nearly the size of telephone poles.
"It's been a great way to keep in shape," said Smith, who so far has lost 20 pounds through training. "I know I am a lot stronger and more active than I have been in a long time."
Since competing, Smith has amassed great achievements in the games.
"I know Father Time will come and kick me in the butt at some point. For now, I'm just trying to ride it out, have fun and make more friends," said Smith. "Maybe one day I'll even have the opportunity to help and train others who are just starting out."
In the classroom he's already doing just that.
"Sometimes I show my students pictures or videos of me competing," he says. "If anything, I show it to them as an example that you can do things that you didn't know you could."
In late August 2016, Smith will compete in the two-day Scottish Masters Athletics International in Buffalo, New York. This event is expected to have an attendance of about 5,000 people. He will compete in nine different competitions throwing and tossing objects ranging from 16-42 pounds in weight.
Currently, he is ranked 5th in his master's class, but hopes to break into the top three by the end of the games.
"It's difficult, but it's fun. Plus, everything has to be done while wearing a kilt," said Smith. "You definitely have to be comfortable in showing a little leg."