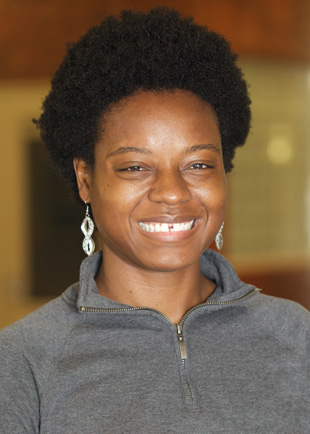 Amazing. Inspiring. Exceptional.
Those are just a few of the words folks employ to describe Sharon Patray, a former refugee, a U.S. Marine veteran and a MiraCosta College alumna set to graduate May 20 with a bachelor of science degree in biochemistry from Cal State San Marcos.
This fall, there will be yet one more way to describe Patray: Ph.D. student at one of the leading research institutions in the world, Johns Hopkins University.
"Sharon is an amazing person with an inspirational story, and she is a prime example of what community colleges are all about," said MiraCosta College Biology Professor Suzie Bailey, who served at Patray's faculty mentor in the Bridges to the Future program, a National Institute of Health-sponsored partnership between MiraCosta, Cal State San Marcos and Palomar College designed to prepare students from underrepresented communities for careers in biomedical research.
Patray, a featured speaker at the April 22 March for Science in San Diego, said MiraCosta College was instrumental in her journey. "A huge influence in my life," Patray said about MiraCosta. "Former Biology Professor Keith Cunningham, Julie Haugsness-White, Suzie Bailey, they all were pivotal in my development and in pointing me to the path I'm on today."
That path is leading toward a future in biomedical research. In fact, Patray co-authored a peer-reviewed article in the journal Intrinsically Disordered Proteins while still an undergraduate student at Cal State San Marcos. Other highlights include participating in a 2015 Summer Research Experiences for Undergraduates program at Johns Hopkins, where her work focused on isolating mycobacteriophages.
Last year, Patray took part in the California State University-Louis Stokes Alliance for Minority Participation program, which is aimed at broadening participation in STEM disciplines. And Patray has presented her work at national and regional conferences such as the Annual Biomedical Research Conference for Minority Students (ABRCMS) and the CSU Program for Education & Research in Biotechnology (CSUPERB). When she's not in the lab, Patray can often be found helping veterans transition back to civilian life.
"She has a huge heart," said Bailey.
Patray, 32, was born in Liberia, but migrated to Ghana as a refugee during the First Liberian Civil War, which claimed the lives of more than 600,000 people from 1989 to 1997. At the age of 15, Patray immigrated to the U.S. under a resettlement program and settled with her father in Rochester, N.Y. Although she earned a fully paid scholarship to study engineering at Clarkson University, Patray could not capitalize on the offer because she had not yet become eligible for a green card from what was then known as the Immigration and Naturalization Service. Instead, she enrolled at nearby Monroe Community College. A year later, she was in the Marines. A friend was enlisting, and a recruiter told Patray the military would pay for her education and help her secure a green card.
The next eight years included deployments as a combat engineer in Korea, Thailand, Iraq and Afghanistan. She left the service in 2011, moved to Oceanside and enrolled at MiraCosta College, where she became active with the Veterans Information Center. Initially on track to become a physical therapist ("I wanted a profession where I could continue helping people"), Patray changed course after an assignment in a kinesiology course required her to interview professionals in the field.
"I realized physical therapy wasn't for me," she said.
A biology course taught by Keith Cunningham and an anatomy class taught by Julie Haugsness-White helped Patray find her calling. Both encouraged her to apply for the Bridges to the Future, even though Patray doubted whether she was properly prepared for a future in the sciences.
"The support I received at MiraCosta College helped change that," she said.
Bailey said Patray's transformation in the sciences was impressive. "I've never seen a person grow and blossom like that before," Bailey said. "The younger Bridges scholars really looked up to her – and they still do."
Indeed, Patray, who earned two associate degrees from MiraCosta and remains involved with the college, is scheduled to take part in a Spring Research Symposium on May 12 at the Oceanside Campus.
"I had some great teachers, some great mentors at both MiraCosta College and Cal State San Marcos who told me I could be a great biochemist and provided me with the support and resources to succeed," said Patray. "They have been my family since I decided to go the science route."