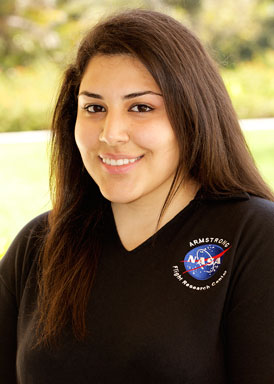 An automatic safety taillight, an Autonomous Underwater Vehicle (AUV) and a Twitter-infused door alarm system are just a few of the things Shideh Naderi has built.
At the age of 18, Shideh Naderi moved to the United States from Iran to help jumpstart a new life for her family.
Weeks after arriving in Oceanside, California, she searched for schools at which she could begin her college journey.
"My uncle told me MiraCosta College is a great choice because it is affordable and classes are smaller, "said Shideh. "He truly believed MiraCosta offered a better atmosphere to learn in."
In fall of 2008, Shideh enrolled at MiraCosta College and worked full-time. She saved as much money as possible to buy a house and a car.
"It was definitely tough going to school and working full-time, but it needed to be done," said Shideh.
After her parents arrival in 2010, Shideh was able to increaser her focus on school and her majors of pre-engineering and math.
In 2012, she completed two associates degrees and decided to stay another year to take additional programming classes. In 2013, Shideh transferred to SDSU as an electrical engineering major with a minor in computer science.
Knowing a double major would be hard, Shideh stopped working and put all of her focus in her studies and extracurricular activities.
"Since I worked a lot while attending MiraCosta, I didn't really have time to join any clubs," said Shideh. "At SDSU, I made sure to become more active."
Shideh joined numerous clubs and organizations for engineers and thrived in the worldwide organization called Institute of Electrical and Electronics Engineers (IEEE).
"I really like IEEE especially because it's mainly for EE majors," said Shideh. "I also served as the president in 2014, a role traditionally held by men."
Shideh has also participated in robotics competitions, instructed a robotics course and earned a highly coveted 8-month internship at NASA as a software engineer.
"I was super happy when I received the internship at NASA," said Shideh. "I get to learn and do things I enjoy. Plus, I get paid for it!"
As a NASA software engineer intern, Shideh works with the aeronautics and flight research branch and assists in improving anything related to aircraft.
Shideh is on track to earn a bachelor's degree in December 2016, and thanks MiraCosta College for preparing her for the next chapters of her life.
"I've learned along the way that if you're willing to put time and effort into anything that you do, anything is possible. There is no boundary in what you can do as long as you work at it."