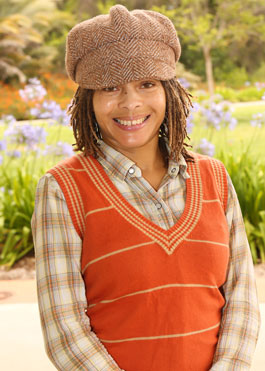 Shirece Perry has a fascinating story of overcoming obstacles that started at birth. Born with a rare deformity that caused her hands to not develop properly, Shirece faced challenges that most of us, including her identical twin sister, have never had to deal with.

"I use both hands for all the things people usually need one hand for," said Shirece. "I have more heart than people think I have. But I have a secret weapon—I'm fearless!"

Shirece also says that having faith and positive people in her life have helped her overcome any obstacles she faced. One of the most influential people in her life is her mother, whom Shirece says raised her to believe she can do anything that she puts her mind to, despite her disability.

"I love my momma and I'm thankful for the stability she gave my sister and me," says Shirece. This stability included Shirece's mom buying their small family a home in Sacramento, where she attended elementary and high school.

After graduating from Valley High School, Shirece worked for 12 years as a dental auditor for Delta Dental. Shirece, like her mother, was blessed to buy her own home… and one on a lake at Laguna West Elk Grove! To make this purchase, Shirece made sacrifices, including not eating out and even going without a vehicle in order to save money. She learned to prioritize her spending and, on top of that, worked plenty of overtime to support herself.

Shirece, however, hit a roadblock when she lost her employment and soon after lost her home. She then became homeless. She moved to Southern California to live with her family and began to redesign her life to become a registered nurse. Having attended college off and on, Shirece knew she wanted to earn a college degree and asked her uncle and aunt where the closet college was located. That's how she found herself at MiraCosta College.

"Life at MiraCosta College is a blessing. The college has given me every opportunity I need to succeed in furthering my education."

Shirece currently attends MiraCosta and is taking classes to become a registered nurse and holistic health practitioner.

"What I love about MiraCosta College is how the professors, faculty, staff and tutors help make it possible for me and other students to pass our courses," says Shirece.

Shirece applies her ability to find stability within education and is currently an "A/B" student. "I've had good and bad semesters, but each semester I try to push myself to be greater than I was last semester," says Shirece, who has about a year left with MiraCosta College.