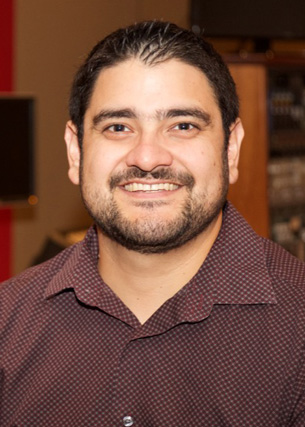 Stefan Orozco's career in the music and film industry is hitting all the right notes thanks to MiraCosta College.
"One of the major reasons I went on to earn a master's degree was because of my experience at MiraCosta College," said Orozco, who is now working for the American Society of Composers, Authors and Publishers (ASCAP) in West Hollywood and recently worked on the score preparation for the new film Mechanic: Resurrection. "MiraCosta helped me find and follow my passion."
Orozco took the roundabout route in getting to MiraCosta.
A graduate of Carlsbad High School, Orozco, 27, headed north to earn his bachelor's degree in legal studies from UC Santa Cruz. "I was interested in going to law school, but I wasn't interested in spending the money, so I worked as a paralegal for a few years to see if this was an area I really wanted to spend the rest of my life in," he said.
But Orozco is a lifelong musician who played the violin and later took up classical guitar. "I've always been interested in the intersections of music, business, and the law," said Orozco. And that prompted him to take a few music classes at MiraCosta College in 2014, including Vocal Fundamentals, Songwriting, and The Business of Music.
It was those courses – and the professors who taught them – that prompted Orozco to realize his true interest was in music.
"The classes were incredible and the instructors had a relevant background by working for so many years in the industry," Orozco said. "They brought real-world experience to the classroom, and you can't replace that kind of experience."
Among the instructors was Christy Coobatis, who also holds the titles of composer, published songwriter, and singer and who is a favorite of his students for his passion in imparting insights gained through decades of experience in the music industry.
"Our program is designed for students to gain critical thinking skills to be able to think independently, which is a major criterion for success in the very competitive music industry," said Coobatis. "Stefan was motivated from the start to get as much as he could from the classes and his peers. He is a prime example of MiraCosta providing the tools for students to secure employment."
But first, Orozco enrolled at Columbia College Chicago, where he earned a Master of Fine Arts. What started as a six-week internship has turned into a seven-month paid internship. He still keeps in touch with Coobatis and MiraCosta College Music Department Chair Dan Siegel. It's no wonder that Stefan has now set his sights on teaching music at a community college – perhaps MiraCosta.