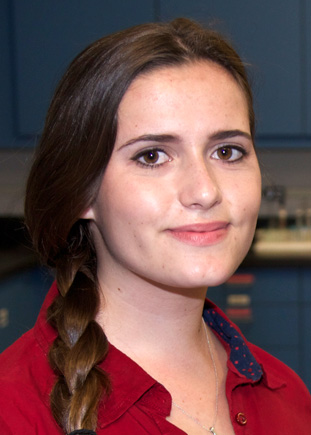 Tayah Bolt found her passion for biotechnology at MiraCosta College. Now she's working with leading scientists through the Genomics Scholars Program at the J. Craig Venter Institute, a paid, undergraduate research opportunity designed for community college students who are on track to transfer to a four-year college or university.
"I didn't even know biotechnology was a subject until I got to MiraCosta," said Bolt, who hopes to transfer to UC San Diego in the fall of 2017 in pursuit of a career in the life sciences. "My transfer counselor suggested I look over the biotech certificate program and it sounded interesting, so I enrolled in BTEC 110."
She hasn't looked back. "I absolutely love working in the lab," she said. "As long as I'm in the lab, I'm happy."
Bolt, now 18, came to MiraCosta College in the middle of her junior year and hit the trifecta: she completed her high school requirements, worked toward her lower-division requirements for the UC system and she completed all of the units required for her science major. To top it off, Bolt decided to pursue a certificate in biotechnology after taking the lab course from Professor Anne Holland.
"Tayah was an extremely enthusiastic member of my introduction to biotechnology class," Holland said. "Not only did she perform extremely well in the class, but she really hit it off with her lab partner, and watching the two of them become immediate and firm friends was delightful to watch. It reminded me of my own freshman year of college, when I met the woman who went on to be the maid of honor at my wedding. Tayah was a memorable and excellent Biotech student."
As a Genomics Scholar at the J. Craig Venter Institute in La Jolla, Bolt has been working with a mentor researching genetic properties of diatoms, algae that shows promise as a future source of biofuel production. And she will be named as a contributing author on a soon-to-be-published study.
"The experience has given me real insight as to what it might be like to work full time in a lab," said Bolt, whose assignment as a Genomics Scholar runs through next summer as she wraps up her certificate program.
Mike Fino, MiraCosta College's Dean of Mathematics and Sciences, said Bolt illustrates the critical role MiraCosta College plays in the community.
"Our certificate programs are focused on fundamental and applied lab skills, based on curriculum we develop in partnership with an Industry Advisory Board to maximize the employability of our students," said Fino. "Through our program's coursework, students experience and appreciate what is involved with work in a technical laboratory environment. Critically, this experience removes the ambiguity and abstract nature of lab work in the life sciences. Our students learn and perform a broad array of cellular and molecular techniques used in the biotechnology industry.
Added Fino: "Tayah took classes in our certificate program to prepare herself for success in her transfer to university. She wasn't immediately looking for employment, as many of our students gaining a certificate, but, instead, to enrich her understanding of lab sciences to improve her success as she transfers to a four-year university. This approach takes great foresight but she's reaping the benefit: she's work at a prestigious research institute while she finishes the rest of her transfer coursework."
Bolt said coming to MiraCosta College was one of the best decisions she's made in her young life.
"It offered me amazing opportunities," she said. "First of all, I am saving close to $70,000 by going to a community college to begin with instead of heading straight to a four-year college. Then you have classes that are much smaller than what you're going to find at a large university and you really get to connect with the professors. It's just a really practical option to pursue."