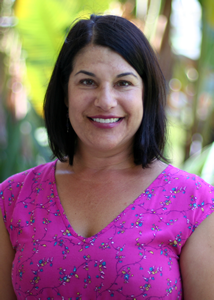 Communications Associate Professor
Terez Anderson plays many roles. "I'm a professor, friend, wife and mother, and all four are important to me." A southern California native, Terez attended Golden West College in Huntington Beach, and while there discovered a love for communication and public speaking. "I took an interpersonal communication course and loved it. Then I took a public speaking course, loved that as well, and decided that speech communication was going to be my major."
Terez transferred from Golden West College to Humboldt State in Northern California, which has an exceptional speech communication program. After earning a bachelor's degree, she returned to Southern California and attended San Diego State University, where she received her master's degree. "They have very good speech and communication programs. I went there for two years, really loved San Diego and so I stayed here, got married and moved to Oceanside."
During high school and college, Terez had her parents to help support her, but she was not the "average" high school or college student. She made sure to take time to prepare for the real world by focusing on excelling in school while gaining critical work experience. During her last semester at Humboldt State, Terez was a teacher's assistant. Then, while working on her master's degree at SDSU, Terez taught two classes each semester. "I never wanted to quit teaching so I worked full time in health care administration doing hospital and medical group contracting. I used a lot of my written communications in that job."
In the fall of 2003, Terez began teaching communication studies at MiraCosta College. She now teaches two to three public speaking and/or group communications classes at both MiraCosta and Palomar Colleges. When it comes to Terez's way of teaching, she says she pictures herself from the students' point of view and puts careful thought into what students want out of her courses.
"I think students want clear expectations," she said. "They want the time to go by fast, so I try to keep it interesting and entertaining, especially if it's a three-hour class that meets once a week." She explains that her expectations for students are for them to leave class having learned something they can actually take with them.
Terez has a lot of reasons to believe her students use what she teaches. She feels very humble and gratified when she receives emails at the end of the semester, or when students write nice notes on their last exam. She loves it when she runs into former students at Target and they tell her how much they liked her class, or when students tell her they had to give a surprise toast and they used what they learned. "It is so satisfying. I save all those notes in a little file, because they mean so much to me."
Those who have met Terez describe her as academic, organized, dependable and responsible. She loves being active; she has run two marathons and many half marathons, and for Mother's Day received a mountain bike. She also is fiercely dedicated to teaching. She says her influences come from her children, who are both very academic. Just as she teaches her students, she also teaches her children to take advantage of every opportunity they have to speak in front of others.
When asked what has changed since she started working at MiraCosta College in fall 2003, Terez stated that while she was always a good teacher she has become a better teacher through the use of Blackboard and by taking advantage of professional development opportunities.
"I look forward to going to work," Terez said. "I love teaching at MiraCosta College!"