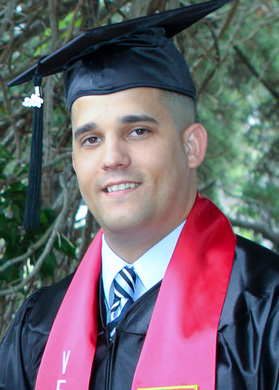 Meet Officer Thomas Sudnick, the newest member of the West Springfield, Mass., Police Department – thanks in no small part to MiraCosta College.
"This is an excellent job and like a dream come true," said Sudnick. "And I really wouldn't be here if it weren't for MiraCosta."
Sudnick, who grew up about 15 miles north of West Springfield in Holyoke, found his way to MiraCosta after enlisting in the Navy following his high school graduation, serving four years as an engineer assigned to the guided missile destroyer Arleigh Burke and landing a job as a dispatcher with the Springfield College Police Department in his home state of Massachusetts. To his surprise, his wife, a Navy nurse, registered him up for classes at MiraCosta College when she was assigned to the Camp Pendleton Naval Hospital and the couple moved to Oceanside in 2009.
"I wanted nothing to do with college," Sudnick said. "I just wanted to go straight into the workforce. But my wife signed me up, and it turned out to be the best thing to happen to me."
Sudnick quickly found a home at MiraCosta and became a regular presence at the Veterans Information Center on the Oceanside Campus (his graduation picture hangs in the office), assisting in numerous outreach events. It was while taking an introduction to criminal justice course with Professor Patrick Connolly that he found his future: law enforcement.
"I have worked as a prosecutor, I've worked with the FBI, I've worked with intelligence agencies and I've worked with local law enforcement, and it was quite clear after the first time talking to Tom that his background, experience and temperament would make him not just a good police officer, but an excellent one," said Connolly, who serves as MiraCosta College's Administration of Justice Department chair. "I know that he will represent both MiraCosta College and the Administration of Justice Department well, and we are very proud of his accomplishments."
Sudnick excelled academically at MiraCosta and secured two Osher scholarships, as well as the Kendra Keating Scholarship. He earned two associate degrees – one in arts and humanities, the other in administration of justice – and transferred to Cal State San Marcos in 2012, where he graduated with a bachelor's degree in criminology and justice studies.
Shortly after returning with his family to Massachusetts in 2013, Sudnick began working part time as a police officer at Springfield College. On Sept. 27, he was sworn in as an officer with the West Springfield Police Department, which includes a team of 80 sworn officers, 11 civilian employees and a reserve force of 90 members. Although a small town of just 30,000 people, West Springfield is home to the annual Eastern States Exposition, which traditionally brings more than 1 million visitors to the area during its 17-day run. Also known as "The Big E," the Eastern States Exposition is billed as New England's Great State Fair and remains the largest agricultural event on the eastern seaboard and among the largest in the nation.
Sudnick said he remains indebted to MiraCosta College.
"I had nothing but excellent experiences at MiraCosta," he said. "The professors there take you under their wing and look out for you. I love that school. Had I not gone there, I probably wouldn't be where I am today."
Sudnick epitomizes MiraCosta College's commitment to active duty military and veterans. With 1,800 active-duty military, military dependents and military veterans enrolled at its campuses, MiraCosta has been expanding its efforts to serve those who have served us. With the help of a $250,000 grant from the U.S. Small Business Administration, for example, the college has created Southern California's only Veterans Business Outreach Center to support service members from San Diego to Santa Barbara who are leaving the military and embarking on a venture of self-employment or entrepreneurship. And Measure MM, a $455 million bond proposal that voters approved in November, will allow MiraCosta College to further improve job training, counseling and support services for veterans.
"As a veteran, I am extremely pleased at how well MiraCosta has welcomed vets and their family," Sudnick said. "I am especially impressed with the Administration of Justice Program and how it prepared me for transfer to a four-year institution and for my law-enforcement career. It's a privilege to now work in a community where my children are growing up."