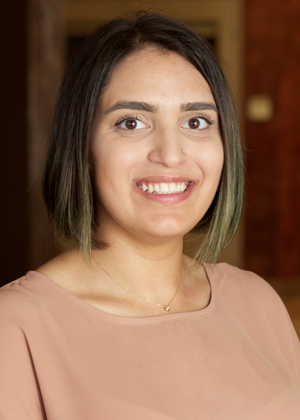 Tina Taleb came to Carlsbad to get a taste of California. When she discovered MiraCosta College, she decided to stay.
Three years later, Taleb is graduating with three associate degrees, a 4.0 grade point average and a ticket to UC Berkeley, where she will pursue a bachelor of science degree in computer science and electrical engineering beginning this fall. She leaves MiraCosta as a Medal of Honor recipient, the highest academic achievement at the college.
"I absolutely love MiraCosta College," Taleb said. "They do a good job of trying to get you involved and the teachers are available to help you. Plus, everybody here is so nice."
Taleb knew little about MiraCosta College when she arrived from Tehran to coastal North County in the summer of 2013 to see what kind of opportunities existed for a person willing to work hard. Green card in hand, she decided to stay after taking a tour of the Oceanside campus, where she enrolled in the spring of 2014. With no family or connections in the area, Taleb dedicated herself to her studies and her work as a tutor in both the Math Learning Center and the computer science lab.
She has left a lasting impression.
"Tina has been one of the top tutors in the Math Learning Center over the past few years," said Scott Fallstrom, Math Learning Center Director. "She is extremely hard working and loves learning new things, she is caring and looks out for others – enjoys helping them learn, and she is driven to succeed. I've seen her grow and mature over the past few years from someone who is quiet and reserved to being more outgoing and direct; she takes her time explaining concepts to students who need help and many students will wait for her to be free as they like her style. She just loves learning."

Named to the President's Permanent Honor Roll and a member of the Phi Theta Kappa Honor Society, Taleb said she succeeded because of the help and support she received at MiraCosta College.
"The instructors always make time to sit down and help you learn the concepts. Computer science is a pretty tough subject, but I had a lot of help from my professors. The support I had from people like Professor Nery Chapeton-Lamas, who always believed in me, had a big impact.
That support, Taleb said, is why anyone who puts their mind to it can flourish at MiraCosta.
"It's actually not that hard to go to a school like Cal when you go to MiraCosta," she said, noting that she knows several MiraCosta College graduates who will be transferring to the Berkeley UC campus this fall. "You have to study, you have to try hard, but if you dedicate yourself and put in the time, you could do it."
The daughter of supportive parents who encouraged her to reach her dreams, Taleb said she is uncertain what path she'll pursue after earning her bachelor's degree at UC Berkeley.
"I don't even know what I will have for dinner," she quipped.