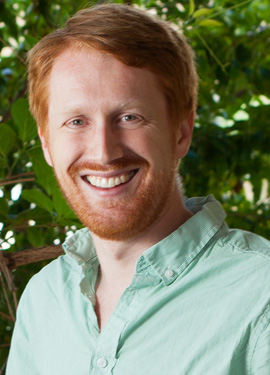 MiraCosta College graduate Travis Williamson was awarded the prestigious Jack Kent Cooke Undergraduate Transfer Scholarship in 2014, which pays up to $30,000 annually for tuition and living expenses as he pursues his bachelor's degree in international relations at Cornell University.
"I'm honored and really excited," said Williamson, an honor student who graduated from MiraCosta College in 2014 with an associate degree in liberal arts, with an emphasis in social and behavioral sciences.
Williamson is just the second MiraCosta College student to receive the award. Jamie Cook, who now studies at UC Riverside, secured the scholarship in 2012. Williamson is planning to pursue a career in foreign service, an area in which he became interested after studying Arabic at Palomar College before transferring to MiraCosta.
Faculty and staff at MiraCosta College who know Williamson say no one was more deserving of the scholarship. Business instructor Christina Hata is one of them.
"Travis possesses a unique combination of keen intelligence, exceptional interpersonal skills and true compassion for the disenfranchised," Hata said. "Travis is also one of the most diligent and responsible human beings you will ever meet. These attributes will serve him well in his professional and academic endeavors. Regardless of what he chooses to do, we will be hearing his name again, and I promise when we hear it, it will be due to the depth and scope of the contribution he will most definitely make toward issues of fairness, equity, and peace."
Williamson was one of 85 community college scholars across the country to be selected for the award in 2014. The scholarship is granted based on achievement and academic ability; persistence; leadership; a desire to help others; and financial need.
"It's an extremely difficult, very thorough application process," said Diane Danielewicz, financial aid/scholarship specialist at MiraCosta College. "The people who are chosen are people who are planning to make a difference in the world."
Williamson, an Encinitas native, landed at MiraCosta College after moving back to North County from Missouri, where he moved as a teen when his father, a general contractor, decided to study at the International House of Prayer, a charismatic Christian mission organization based in Kansas City. Williamson came back to Encinitas for a while to help care for a grandfather who had suffered a stroke, then returned to the House of Prayer to study to become a minister.
"I did a lot of soul searching and I realized the ministry wasn't my calling," Williamson said.
Williamson returned to North County for good in 2009. He earned a certificate in library technology from Palomar College but "by the time I finished, it was the tail end of the recession and no libraries were hiring anybody. I finally came to accept that if I was going to have any kind of career, I would have to go back to school and get an actual degree."
He enrolled at MiraCosta College as a full-time student while taking Arabic classes at Palomar. Studying Arabic led Williamson to learn more about Islam, Arabic culture and Middle East politics. He attended meetings of the Muslim Student Association at Palomar and sessions at Hillel, the largest Jewish campus organization in the world, which has a chapter at MiraCosta College. Williamson later immersed himself in the United Nations Association's San Diego Chapter. What he took away were the common values that Middle Eastern cultures share and that what is lacking most is understanding.
"I decided I wanted to work to build bridges between cultures," Williamson said. And he is committed to making a difference in the world by working in the Foreign Service.
He will get a boost in reaching his dreams through the Jack Kent Cooke Scholarship.
"Diane Danielewicz told me that one of the reasons people don't get the scholarship is because they don't take the time or make the effort to go for it," Williamson said. "I figured I'd give it a shot. If it didn't work out, well, okay. But if I was awarded a scholarship, it would be life-changing."
In addition to the Jack Kent Cooke Scholarship, Williamson received the MiraCosta College Medal of Honor in 2014. It is the college's highest academic honor.