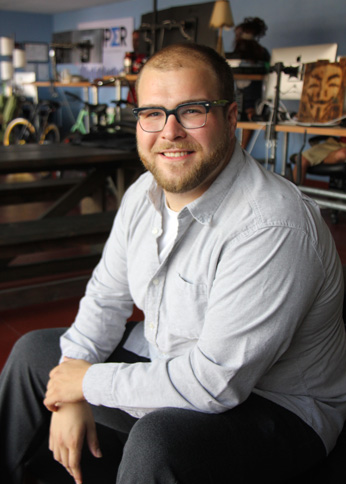 Vinny Green opted to attend MiraCosta College while he was still in the Marines. The Oceanside Campus was close to Camp Pendleton, professors didn't flinch in working around his schedule, and counselors were diligent in helping him develop and follow an education plan.
Today, Green is a co-owner and director of business development for Snopes.com, in addition to being a vice president, co-owner and co-founder of Proper Media, LLC, a company that helps high-traffic websites maximize their advertising dollars.
Oh, and he's just been featured by Forbes in its "30 Under 30" for media professionals.
"It's been an interesting ride," said Green. "I've definitely been very fortunate."
His fortunes promise to increase. When Facebook recently announced a new initiative aimed at confronting the increased volume of bogus news being propagated by the managers of dubious websites, Snopes – which was created in 1995 with a mission of providing an impartial analysis of rumors, hoaxes and urban legends – became one of six fact-checkers participating in the social network's experiment.
How did a former enlisted Marine who grew up in a working-class family from Pasadena, Md., find himself on the cutting edge of the region's growing tech industry? Credit a touch of serendipity with a huge dose of commitment and dedication.
It began innocently enough when Green, now 25, was based at Camp Pendleton as a radio technician with a year left to go in the armed services. Green enrolled at MiraCosta College, where he earned an associate degree in humanities, then a second degree in sociology, with an eye toward transferring to either UC Berkeley or UC San Diego and launching a career teaching sociology.
"I wanted to pursue an education, and the California Community College system offers a wonderful opportunity and pathway to a four-year degree," Green said. "MiraCosta College was right in my backyard, so I started by taking evening classes that fit into my schedule."
It was his work through MiraCosta College's Service Learning Program that proved pivotal in turning his life around.
"As part of my first service learning opportunity, I volunteered as a coach for the American Heart Association's charity fundraising program, Start Training," he said. "That's when I met my friends who ended up connecting me to my future business partners."
Bea Palmer, who coordinates MiraCosta College's Service Learning Program, said Green was dedicated to doing his best, especially while developing an Indiegogo campaign on behalf of the North County Food Bank.
"He did a lot of work for the Food Bank," said Palmer. "He definitely brought the passion."
In February of 2015, his future business partners hooked him up with an internship at TVTropes.org, which calls itself "The All-Devouring Pop-Culture Wiki." Soon, Green became immersed in writing code and web product development. Within a few months, he and his partners founded Proper Media, LLC. Its first client: Snopes.com. Less than a year later, Proper Media partners bought a 50 percent interest in Snopes. Plans of going to Berkeley or UCSD were put on hold.
"The opportunities just keep building," Green said. "There is really no reason to leave."
These days, Green works from Pacific Beach in San Diego. But he has fond memories of his two years at MiraCosta College.
"I learned a lot from the Marines about building a team and managing people," he said. "But MiraCosta helped me in so many ways. It defined my ability to work at a media company and provided valuable lessons in learning how to look at the world through different lenses. Those skills have really helped shape our business strategies. I'm doing what I love. I'm working at a company I helped found, and now I have an ownership interest in Snopes. I consider myself pretty lucky, really."
Green offers this piece of advice for those with military ties.
"If you're a veteran or on active duty in the military, MiraCosta is accommodating," he said. "All of the staff there, across the board, is there to help you and work with your schedules. Plus, I love the campus. You can't really find a better situation."