The Social Justice & Equity Center Scholars are students who have actively attended programming from our center to engage in co-curricular learning around social justice and equity topics. To receive this unique certificate and include it to your resume students must attend four or more events and sign in to our events. It is still possible to earn the SJEC Scholar Certificate! Please see our Events Calendar and make sure to attend a total of 4 events by May 12, 2021.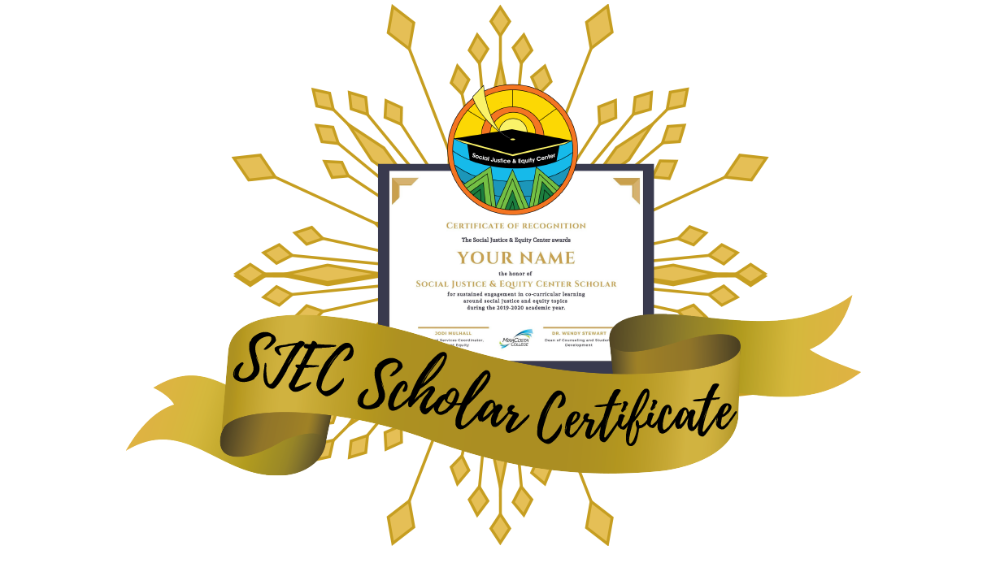 2020/21 SJEC Scholars
Brandy Allen
Alexi Aloni
Kim Barrueta
Clinton Barton
Kenya Bradley
Jennifer Brown
Vivian Brown
Caroline Campbell
Ceara Carson
Luna Chacon
Alisandra Dominguez
Amy Eager
Kate Fernandez
Garnette Fesili
Natalia Flores
Patricia Funaki
Andrea Gomez
Joanne Gonzales
Liliana Garcia Gutierrez
Katherine Hidalgo
Harley Hughes
Mariah Kalli
Karena Korbin
Anri Le Roux
Madi Logan
Holly Martinez
Tailor McKay
Madina Mehr
Ariana Mendez
Monique Morales
Yadira Morelia
Sophie Musgrave
Ashley Osorio
Breeana Page
Kiyana Pahlevani
Austin Quandt
Jasmine Rios
Jada Rivas
Fernanda Segovia
Hayat Sherif
Sandy Somo
Amanda Thompson
Thu Tran
Joanna Valdez
Edith Vasquez
Brian Velasco
Rebecca Villalobos
2019/20 SJEC Scholars
Miguel Angelia
Julie Astorga
Susan Austin
Brooke Austin
Jeilvon Austin
Brandy Brown
Gen Burns
Isabella Carlos
Zeltzin Carrillo
Ceara Carson
Gavin Catron
Naomi Cherone
Jonathan Cline
Jasmin Cortez
Jade Finch
Nailea Flores
Amy Flores
Brenda Flores
Marcus Foster
Maria Garcia
Nubia Gonzalez
Wendy Heredia
Naasik Jahen
Elliott Keyes
Isarah Lightfoot
Tereza Lopez Zafra
Diego Luna
Sherry Mande
Marian Mata
Ana Zafra-Mendoza
Maria Mendoza
Pamela Miranda
Melina Molina
Susy Morales
Lancelot Nava
Maria Navarrete
Julia Novoa
Teresa Olen
Melissa Ortega
Natalie Richman
Jordan Sanchez
Britney Solano
Valerie Varela
Christopher Varges
Carlos Garcia Vasquez
Shea Venteria
Gelila Yoseph
2018/19 SJEC Scholars
Alexis Arambula
Andre Idso
Monica Dee Ellis
Kory Hall
Juan Juarez
Ginger Lamb
Valerie Leon
Sophia Lopez
Diego Luna
Susy Morales
Victor Navarrete
Tom Nguyen
Melissa Ortega
Marisol Rodriguez
Jordan Sanchez
Amara Sengamphan
Britney Solano
2017/18 SJEC Scholars
Antan Grubox
Jaquelyn Godbolt
Edith C. Hernandez
Jackie Robledo
Blue Feeney
Thomas Nguyen
Michelle Vesley
April Laks
Tereza Zafra Lopez
Bruce Carrion
Teresa Olea Gonzalez
Ellen Lopez
Vanessa Cody
Zak James
For more information on these services and programs contact:
Student Equity
760.757.2121 x6900
studentequity@miracosta.edu
The Social Justice and Equity Center (SJEC) is a service of the Department of Student Equity. For general inquiries about all Student Equity programs and services, please contact us at studentequity@miracosta.edu or call our main office at 760.757.2121 x6900.