Biotechnology is an expanding field devoted to improving human health through the research, development, testing, manufacturing, and marketing of products related to the biomedical and agricultural industries. Courses provide both the theoretical background and practical experience necessary to gain employment in the biotechnology industry.
Career Options
Career options include research, development, quality control and assurance, manufacturing, analytical testing, and work as a lab technician.
Student Voice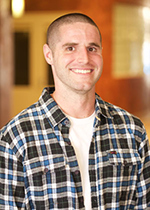 Nate Phillips
Nate Phillips this fall enrolled with the inaugural cohort of 23 junior-year students at MiraCosta College's groundbreaking bachelor's degree program in Biomanufacturing. MiraCosta is one of just 15 California community colleges selected in a pilot project allowing the campuses to offer a for the first time a bachelor's degree in an in-demand field.
Read More About Nate-
Academic Programs in Biotechnology
The academic maps will give you an idea of the classes you need to take. However, please meet with a counselor to personalize your education plan.
KEY: Certificate of Proficiency Certificate of Achievement Associate Degree Bachelor's Degree
Additional Resources
Contact Information
Chair
Academic Division Assistant
Dean
Admin. Assistant to the Dean
Full-Time Faculty
Associate Faculty