Child Development is the study of the social/emotional, cognitive/language, and physical/motor, growth and development of children, from conception through adolescence. Students may take courses to obtain child development certificates and permits, earn an associate in arts degree, and/or prepare to transfer to a four-year institution. Students who are already working in the field may take courses that are of interest to them and can optimize their knowledge base in child development.
Career Options
Career options include a variety of professions serving children and their families such as infant/toddler care, preschool teaching (including Head Start), elementary and secondary education, early childhood special education, program administration, school counseling, child psychology, child advocacy, social work, and community services.
Student Voice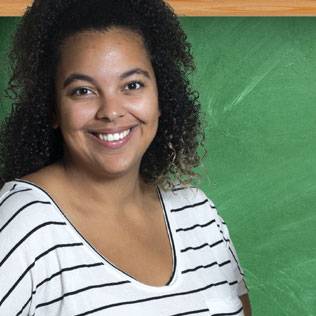 Chelise Walker
The San Marcos resident was lacking a clear vision of what she wanted in her future after graduating from High Tech High North County. So, a couple years later, Walker decided to give MiraCosta College a try and study child development. "MiraCosta is focused on a student's end goal," Walker said. "It's focused on a student's success, in everything from the application process to student support services, to helping you find financial aid and finding a job. Everything is accessible, and the teachers are passionate about what they do."
Read More About Chelise-
Academic Programs in Child Development
The academic maps will give you an idea of the classes you need to take. However, please meet with a counselor to personalize your education plan.
KEY: Certificate of Proficiency Certificate of Achievement Associate Degree Bachelor's Degree
Additional Resources
Contact Information
Chair
Claudia Flores
Academic Division Assistant
Monique Reeve
Dean
Al Taccone
Admin. Assistant to the Dean
Daria Davis
Full-Time Faculty
Ashley Davis
Claudia Flores
Linda Haar
Rhonda Welch-Scalco
Mark Whitney
Associate Faculty