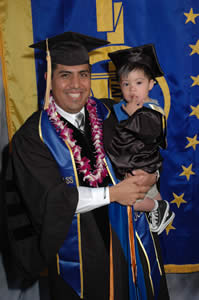 MiraCosta College 2002 graduate. Distinguished recipient of the UC Dissertation-Year Fellowship. Author and co-author of numerous research publications on nanowire arrays and quantum dots. Respected scientist in the field of solar energy, nanoelectronics and photovoltaics. Dr. Alfredo A. Martinez-Morales has traveled far and accomplished much since leaving his distant homeland of Oaxaca, Mexico, as a teenager.
"Although life was comfortable for my family when I was young, living in Oaxaca, my mother saw greater opportunity in the United States," says Alfredo. "My insightful mother wanted my brother and I to have the opportunity for an education…she said she 'wanted us to have careers,' so she left us with my grandmother in Mexico while she made the difficult trip to California to pave the way for our new lives."
Four years later, when Alfredo was just 14 years old he and his brother left Mexico, traveling 2,300 miles to join their mother in Oceanside. "We left our worlds behind. I was just entering high school when we arrived in Oceanside."
In order to improve his English language skills, while still in high school, Alfredo enrolled in MiraCosta College's English as a Second Language Program (ESL). "I did not do well in high school," he says. "MiraCosta College was my second chance."
Alfredo's "second-chance" was the start of a successful and impressive academic and professional journey. He graduated from high school, completed MiraCosta College's ESL program and then made the successful transition from the noncredit to the credit program. He then graduated with an associate degree from MiraCosta College, and in 2005, earned a Bachelor of Science degree in Electrical Engineering from UC Riverside (UCR). Three years later, he received a Master's of Science degree in Electrical Engineering, also at UC Riverside, and in June of 2010, graduated from UCR with a Ph.D. in Electrical Engineering.

Attending his doctoral commencement were two other important MiraCosta College graduates: 2002 graduate Jasia Martinez, Alfredo's beloved MiraCosta College sweetheart and now wife, along with their 3 year old son, Enrique; and Alfredo's brother, Jose A. Martinez, 2003 MiraCosta College graduate. Also participating in this happy occasion was Alfredo's very proud, happy and supportive mother, Araceli O. Morales Torres, who always believed that she could make a difference in her son's lives with education, despite enormous struggles and sacrifice.

Today, more than two decades after he sat in his first ESL class at MiraCosta College's Community Learning Center, Alfredo has a bright career in the field of solar energy, working as a Research Faculty and Managing Director of the Southern California Research Initiative for Solar Energy at the Bourns College of Engineering at UC Riverside, where he leads six undergraduate students and three graduate students.

Alfredo attributes much of his current success to the "wonderful and enriching experiences at MiraCosta College," and to the dedicated professors and mentors at the college, including his ESL instructor and the winner of the 2011 Hayward Award for Excellence in Education, Sylvia Ramirez. "Throughout my education and career path, I have been fortunate to have the support and care of people like Sylvia Ramirez, my ESL instructor, who made a true difference in my academic experience. I truly appreciate everything she did."

Sylvia, whose advice to her ESL students is, "follow your dreams and believe in yourself," says she remembers Alfredo well. "Alfredo was such an inspiration to me," she says. "High school is hard for most young adults and when you add the insecurities of not knowing the dominant culture and language, it can be overwhelming. But Alfredo was a star in my ESL classes; I always thought he would have a bright future."

Alfredo also looks back on his experiences in the MiraCosta College PUENTE Project as a defining moment in his life. "Professor Jara's class was challenging, stimulating and gave me the confidence to pursue and finish my academic goals." Not surprisingly, Alfredo wants to give back to the community that helped him on his path to academic success and is actively pursuing an opportunity to mentor a young student in the PUENTE Project at MiraCosta College.

"It is time for me to give back some of the kindness and generosity that I received," says Alfredo. "Because of my struggles and my deeply felt experiences, I feel stronger. I am the person I am today because of them."