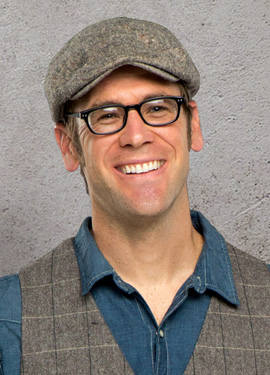 Andy Powers was about 8 years old when he tried making his first guitar. It fell apart while he was tuning the strings.
"It didn't work," Powers said with a laugh. "I didn't realize how complicated it was, how much went into the structural design of the instrument."
No matter. Today, the MiraCosta College graduate is among the most celebrated guitar and ukulele makers around and has a following that includes the likes of Elvis Costello, Taylor Swift and Led Zeppelin's Jimmy Page.
"I believe Andy to be among the most talented guitar builders the world has seen," wrote Taylor Guitars owner and co-founder Bob Taylor on Powers' website after convincing him to join the El Cajon-based company as its master luthier.
Born and raised in Oceanside, Powers was homeschooled, earned his high school diploma when he was 15, and earned an associate of arts degree in music from MiraCosta College in 2000 before transferring to UC San Diego. All the while, he was busy building a business, Andy Powers Instrument Co., which was earning a reputation for its craftsmanship.
MiraCosta College would play a key role in his life. Not just because of what he learned, but who he met.
"There were a lot of San Diego-area musicians who were teaching there at the time," said Powers, now 33. "A lot of the faculty members were working professionals who had a lot of experience and brought with them a load of enthusiasm. It was really a wonderful environment to be a part of."
Several years after graduating, Powers went to a Harvey Reid concert at MiraCosta College and found himself sitting next to the man who co-founded Taylor Guitars in 1974 and helped grow it into one of the leading makers of quality guitars in the world.
"There was this little tiny classroom that they had turned into a concert hall for the night," he says on a video recorded by the National Association of Music Merchants. "And so we sit down and were listening and then during an intermission, I look down and I think, `Gosh, I think you're Bob Taylor, right?'"
The two ended up talking about music and building guitars. "He said if you ever need a job, come look me up," Powers said.
Before too long, Powers and Taylor were running into each other at various events and trade shows. A few years ago, Taylor called Powers with a proposition.
"He said, `So here's the deal.' He's like, `I won't be here forever and I want Taylor to be a guitar company that's still guitar-maker driven, and I want it to be a first-generation company … Once I'm gone, who's the guitar maker here? So he kind of just said, `Look, I've looked the world over and it's like, you're my guitar maker. So you can take as much time, take two weeks to decide, take two years. I don't care. It's like it's either you or nobody.'"
Powers took the job. He has since been the subject of numerous stories detailing his craftsmanship working with one of the top guitar manufacturers in the country.
Working with wood is in Powers' blood. His father was a carpenter. "I was always around tools and scraps of wood," said Powers, who grew up playing every style from jazz, rock and country guitar in local bands. "One day, my dad came home with a piece of wood that was big enough to make a guitar. So I decided that I would make one."
Powers didn't factor in the tension and pressure a stringed instrument must withstand. "I didn't realize you had to brace it and put in some structural materials so it won't blow up on you. I just put some strings on it and started tightening it up and it literally exploded into a pile of splinters."
Powers didn't give up. He sought advice from guitar makers, magazines and books, soaking up information and experimenting with new designs. "I learned about tool-making, woodworking, finishing, from virtually every source I could possibly learn from," he said.
It worked. Powers started his business when he was in high school, first making guitars and ukuleles for friends before branching out.
Now married with two children, Powers hasn't forgotten MiraCosta College.
"The caliber of teachers there was excellent," Powers said. "Just a lot of talent and a lot of enthusiasm. It helped me immensely."