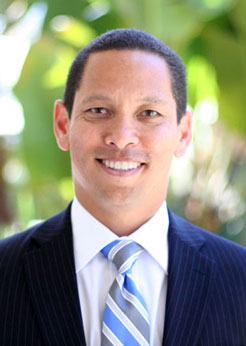 Vice President of Business and Administrative Services
Sometimes a poor job market creates an opportunity for graduates to venture into careers they had not originally planned.
Initially an electrical engineering major, MiraCosta College's Vice President of Business and Administrative Services Charlie Ng transitioned to administration after earning his degree from San Diego State University.
"When I received my bachelor's degree in electrical engineering in the early nineties, the economy was really bad," said Charlie. "It was tough to get a job in my specific field."
Charlie eventually acquired a job in facilities engineering at UPS as the plant engineering supervisor.
"I was in charge of the plant and those four years in facilities led me to a job at UCLA, where I was the chief engineer of facilities for the Associated Students," said Charlie. "I was then hired as the director of facilities at Pierce College and by that time, I transitioned my education in electrical engineering to facilities management."
In 1996, Charlie graduated from University of Redlands' MBA program and later earned a master's degree in advanced management from Claremont Graduate University.
Nine years later, Charlie acquired his first vice president job in administrative services at Crafton Hills College.
In July 2013, Charlie joined MiraCosta College as the vice president of Business and Administrative Services where he oversees six different departments and a multimillion dollar budget.
"It's been wonderful since I got here and we've accomplished many things," said Charlie.
One of those accomplishments occurred earlier this year when MiraCosta College was awarded the prestigious Distinguished Budget Presentation Award, which is the highest award in governmental budgeting by the Government Finance Officers Association of the United States and Canada (GFOA).
In order to receive the award, MiraCosta College had to satisfy nationally recognized guidelines for effective budget presentation. These guidelines are designed to assess how well an entity's budget serves as a policy document, financial plan, operations guide, and communications device.
"In the next several years I would like to see the college make even greater strides in student learning outcomes," added Charlie.
Outside of work, Charlie coaches youth basketball and enjoys family time and playing numerous recreational sports.