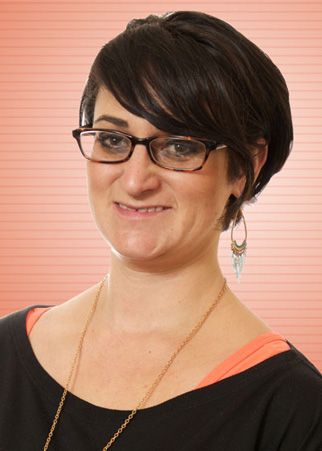 Jobs on campus are valuable tools for students looking to earn money and gain real-world experience. For Debbie White, winner of the 2016 Student Employee of the Year award, working at the MiraCosta library circulation desk for the past few years has meant so much more.
White, a returning student majoring in business, assists library staff by providing customer service and technical services to students. On her own accord, White gives students a mini tour of the library to show them resources and online tools they can use to help them with classes.
"I am very honored and it's nice for someone to recognize your hard work," said White. "I love helping people and I always want to make sure students learn about free resources the college offers."
The free resources, she says, has personally helped her put her life back on track.
When White enrolled at MiraCosta College back in September 2012, she had just left a bad relationship plagued by domestic violence. White and her two children had to escape from home and live in a shelter.
"When that happened, I had to start my life completely over from scratch and on my own," said White.
Thanks in part to CalWORKs, a welfare program that gives cash aid and services to eligible needy California families, White was able to restart her educational career. The program helped her earn her first associate of arts degree (AA), but is also helping her with transferring to a four-year university.
"Everyone who knows me knows my story," said White. "I've learned from it and rather than let it tear me down, I've used it to make myself a better person, and be compassionate to others."
White's compassion and determination definitely shines through her work as a student worker—characteristics duly noticed by her peers.
"Debbie is a longtime employee in the library and has always been reliable, professional and dependable," said Michelle Ohnstad, library operations coordinator, who nominated White for the award. "She also possesses an intellectual curiosity, strives to stretch herself academically and is to be admired for taking risks to learn new things—she's a true MiraCostan.
White hopes to transfer to the University of San Diego or USC, and later apply to business school and someday start her own business.
"When I started at MiraCosta, I only wanted a certificate, then I moved up and earned my AA," said White. "Now, I'm finishing my second AA and want to earn a bachelor's degree. My goals have definitely increased and really, I can only go up from here."