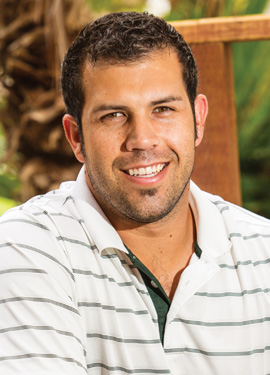 Talk about serendipity.
MiraCosta College student Geoffrey Koch was strolling by the cafeteria one recent afternoon when he came across a girl encouraging people to fill out applications for scholarships at the school. Koch took the advice. Not long later, he learned he had been named the recipient of the Gay Straight Alliance's first endowed scholarship, a $1,000 award going to a current student who identifies as a member of or as an ally to the LGBTQ community.
"I had never applied for a scholarship at MiraCosta College before, so I was really surprised when I found out," said Koch, a straight-A student.
Koch has long been active in LGBT issues. He has worked with the San Diego HIV Health Services Planning Council, has done volunteer work with gay advocacy groups and is a member of MiraCosta College's Gay Straight Alliance. He enrolled at MiraCosta College in the fall of 2013 and plans to work in the field of sustainable agriculture. He ultimately hopes to go into consulting and perhaps government work.
Koch first moved to San Diego after graduating from high school in the Los Angeles County, high-desert town of Quartz Hill. He initially enrolled at San Diego Mesa College, but said he didn't have an educational plan and wasn't sure of a career. He would later move around the country working at a variety of jobs before returning to San Diego County in 2012 and settling in Oceanside.
Koch landed a job at a residential treatment center and enrolled at MiraCosta College. He said taking classes at the Oceanside Campus was one of the best moves he's made.
"There are some really great faculty here, along with very supportive people who are looking out for your interest," Koch said. "I can't say enough about it."
MiraCosta College also is one of the few community colleges in the nation to endow an LGBT scholarship. The effort to finance an endowed scholarship began two years ago when students with the Gay Straight Alliance were discussing a fundraiser. Steven Deineh, an instruction librarian who serves as director of the North County Higher Education Alliance and a faculty co-advisor to the Gay Straight Alliance, suggested the money raised from the fundraiser be used to fund a scholarship in perpetuity. By hitting their goal of $25,000, students would be able to build an endowment through the MiraCosta College Foundation that would fund a $1,000 annual award.
Fundraisers over the past two years included the annual Queer Cupcake Party, a silent auction and sales of rainbow wristbands with the words "Free To Be Me. The most recent fundraiser, held in April, pushed the total to more than $29,000, prompting the Gay Straight Alliance to set its sights on growing the endowment to give additional scholarships.
"MiraCosta College has a long history of promoting diversity on campus, and this is a continuation of that tradition," Deineh said.
Koch, who has been on the President's List both semesters he's been at MiraCosta College, said the money will go to good use. "I'm really flattered to be awarded this scholarship, but I think it's even more awesome that the GSA Alliance has gotten to the point where it can do this."