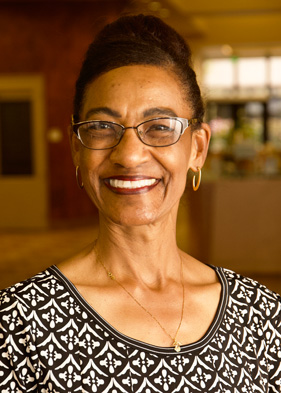 Gigi Goines-Lewis's lack of expertise on the computer was keeping the unemployed, middle-age Oceanside resident from finding work. Then she found a MiraCosta College Short Term Vocational program in computer skills.
No longer unemployed, Goines-Lewis is back working in a profession she loves.
"MiraCosta has been a life changer for me," she said.
Goines-Lewis embodies the success of the Short Term Vocational program at MiraCosta College's Community Learning Center in Oceanside that includes Basic Word Processing, Beginning Excel, Beginning PowerPoint, Intermediate Internet, Essential Computer Skills, and Intermediate Word Processing.
"The classes are free and they provide you with the skills and knowledge to use Microsoft Office and other applications," said Computer Applications Instructor Jane Herrick. "It's a gem of a service."
Classes last three hours per week and run for eight weeks. Most students meet on Saturday.
"A lot of people who come to us have had a job forever but didn't need to use a computer. Some of them have just lost their job and they are looking to learn new skills to find employment," Herrick said. "Gigi is typical of the type of student we see, and her success illustrates the impact we are having."
Goines-Lewis had earned a bachelor's degree in social science from Michigan State University in 1980, but she never became entirely comfortable with a computer. After serving eight years in the Navy as a corpsman, including two years of active duty and six years as a reserve, she spent more than a decade as a physical therapy assistant or manager at North County senior homes and rehabilitation centers.
When her most recent employer shut its doors in 2018, Goines-Lewis was out of a job. She was 59 years old.
"At first I was thinking I'm going to take a break for two months and then go back to work," she said. "Then when I started looking for physical therapy assistant jobs, all I could find was per diem or contract work with hundreds of applicants. I needed a full-time job that offered health insurance."
Her lack of computer skills cost her when she finally landed an interview with a health care provider in Oceanside.
"I could get on a computer, I could type on a Word document and maybe create a flyer or something, but that was about it. I didn't even know what the https versus the http meant. I didn't have a clue."
Then Goines-Lewis heard about MiraCosta College's free short -term vocational programs from the state Employment Development Department.
"I signed up. I said, 'what the heck? I might as well.' So I started off with just the basics, Word, Excel, and learned how to become literate on the computer."
When another opportunity developed at the same Oceanside health care provider, her newfound skills left an impression. Goines-Lewis was hired almost immediately. Since November, she's been working as a home health physical therapy assistant , maintaining computerized records of her patients, organizing online calendars, and more.
"It's a great job, it pays very well, and it has medical benefits," Goines-Lewis said.
"Everything is computerized now," she added. "You have to have decent computer skills if you want to get a good job these days, no matter what field you're in."
Indeed, MiraCosta College's Short Term Vocational program also includes a Cisco Network Training Academy that can quickly lead to jobs as a help desk staffer, a network technician or a network engineer.
"We're giving people the skills they need to be employed," Herrick said.