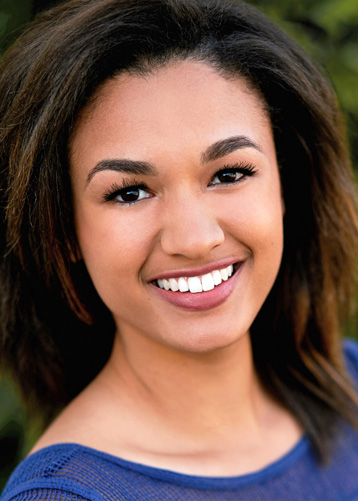 Jazmine Rogers, a music performance major at MiraCosta College, has big dreams. Dreams that may one day take her up on the music charts with the likes of Mariah Carey, Michael Jackson and Beyoncé.
"My career goal has always been in music," said Rogers. "I've always wanted to perform and I can't see myself doing anything else."
When she began singing as a little girl, Rogers' imitated famous singers like Whitney Houston and Beyoncè. Her parents nurtured the hobby after realizing her passion for music.
"Honestly, I wasn't the best singer when I was a little girl, but I loved it. My mom was the one to tell my dad that I am 'a diamond in the rough' and since then both of them have been really supportive," said Rogers.
To work on her craft, Rogers joined various choirs in elementary school and by middle school had performed a number of solos and lead parts in shows. In recent years, she has became engaged in musical theatre where she is able to work on her singing, acting and dancing skills.
"I feel amazing whenever I am on stage," she said. "Musical theatre is so much fun and it really incorporates all aspects of entertainment, which I love."
In spring 2014, Rogers enrolled at MiraCosta to major in music in hopes of learning more about the industry and earning a degree.
"The music department here is exceptional. I love the directors and music instructors who themselves are professionals in the field," said Rogers. "Learning from them and being part of professional gigs has shown me I can really go for my dreams."
In 2016, Rogers won the $5,000 grand prize at the second annual Campus SuperStar singing competition benefiting Hillel of San Diego held at the Irwin M Jacobs Lecture Hall in Sorrento Valley. Rogers' performed a captivating rendition of Whitney Houston's hit, "How Will I Know," a set that reportedly got the audience clapping and singing. The top three finalists were chosen by the judges, but the winner was ultimately chosen by audience vote.
"I absolutely had a blast throughout the entire process of the competition," said Rogers. "I enjoyed working with the other finalists who are all extremely talented and genuinely nice people."
Rogers especially enjoyed the American Idol-esque feel to the competition since it gave her a sense of how music contests are organized.
"The competition really pushed me to bring out everything I've got and challenged me to think bigger and strategically to make my performance worth winning," said Rogers. "It was also a lot of fun incorporating all that I am learning at MiraCosta College. It really made me feel like a true artist and entertainer."