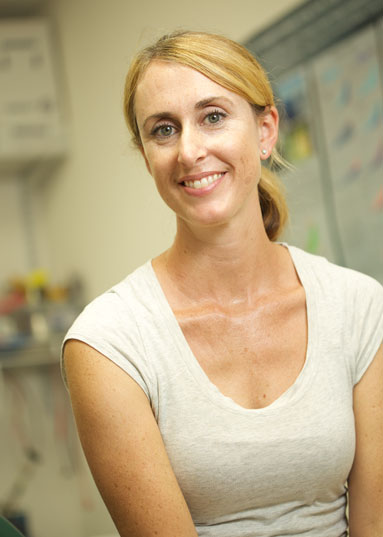 She has taught at two University of California campuses, earned her Ph.D. at the Marine Biology Research Division of the Scripps Institution of Oceanography, and is working with experts across the United States in field research supporting sustainable fisheries and other critical issues involving marine science.
Best of all, Dr. Jeanine Sepulveda is also a professor of marine biology at MiraCosta College. And her work with the Pfleger Institute of Environmental Research (PIER) is opening up ample educational opportunities for her students.
"From a marine stewardship perspective, our collaborations over the years have served a dual purpose at MiraCosta College," she said of her PIER research activities that are being done in collaboration with colleagues from the universities of Calgary and Massachusetts and which are aimed at getting a clearer picture about how swordfish, shark and other fish operate under various conditions. "First, the PIER research platform, MiraCosta's Career Center and I have all worked together to facilitate internship opportunities for our biology students. Some interns have worked directly with me on the swordfish muscle project, while others have worked with the PIER team on other related projects. These internship opportunities have been a wonderful way to engage students in the process of science and get them excited about a career in marine biology.
"Second, my marine biology students are constantly exposed to new ideas that stem from related research, new findings in the field of comparative physiology, the challenges of field research, and directions in fisheries management, all of which come from my direct involvement with PIER and colleagues."
Colleagues say MiraCosta College is fortunate to have her.
"Dr. Sepulveda is a dynamic instructor with rich field and research experience that informs her teaching," said Julie Haugsness-White, Biological Sciences Chair at MiraCosta College. "She has written laboratory curriculum for our marine biology course that is investigative by nature and that trains students to design and perform their own experiments in selected marine environments. She also asks students to perform an internet-based research project that probes the question of sustainability of a marine fishery resource. This latter project challenges students to work towards all five institutional student learning outcomes. Furthermore her summer research provides opportunities for student research internships for interested and qualified individuals."
A native of Orange County, Dr. Sepulveda earned her bachelor's degree in biology and her master's degree in marine biology from Cal State Fullerton, before earning her Ph.D. She taught at UC San Diego, UC Irvine, Cal State Fullerton and several community colleges before coming to MiraCosta College in the fall of 2004.
"MiraCosta College is by far the most student-centered and dedicated faculty and staff that I have ever worked with," she said. "We are dedicated to personal and professional development that affords an ever-improving student experience. My colleagues and I care deeply about students and the equity, safety and effectiveness of their learning environment on and off campus."
She has earned numerous positive reviews from students visiting the RateMyProfessors.com site. "Where do I start?" wrote one student. "She is an inspirational teacher to me, she helped me network and met with me after class to talk about my major and guided me towards different majors/jobs in the future. She gives great feedback and knows what she's teaching."