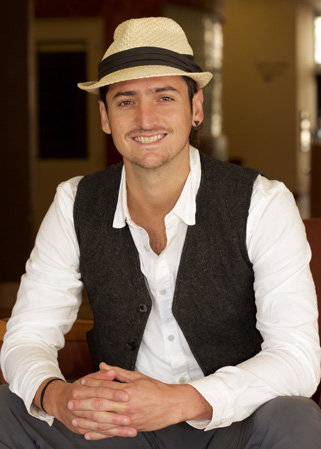 What a long, strange trip it's been.
Jeff Jaureguy was just looking for yet another temporary job to help finance one more in a series of overseas trips when he landed a gig monitoring an endangered lizard in Central California. That ignited a passion for biological research – and a journey he hopes will lead to a Ph.D. in the sciences.
Now the MiraCosta College student is racking up an impressive array of research opportunities that included a summer internship at the University of Illinois and a presentation at the prestigious Annual Biomedical Research Conference for Minority Students (ABRCMS) in Tampa this past November.
Jaureguy credits MiraCosta College, where he serves as co-president of the STEM Research Club, with keeping him on his path and pushing him to reach his dreams.
"MiraCosta is giving me access to opportunities and experiences I didn't know existed," said Jaureguy. "I didn't know there so many resources available. I've been impressed with how the professors here are so committed to helping you succeed." Jaureguy is also a recipient of numerous scholarships including an Osher Scholarship, a Winski Scholarship and a Bridges to the Future grant, all of which has helped him get a step closer to his educational goals.
Born and raised in Oceanside, Jaureguy initially enrolled at MiraCosta College for its yoga instructor and massage therapist programs. Before too long, though, his focus turned to traveling around the globe, visiting such far-off places such as India and Thailand. To fund his adventures, Jaureguy would return home, find work and save enough money for his next trip.
That's how he landed a job working for a firm hired by a developer to monitor the endangered blunt-nosed leopard lizard. It was then that Jaureguy had his epiphany. "I just really fell in love with biology," he said.
He soon hooked up with the Bridges to the Future program at Cal State San Marcos, which is aimed at preparing students from underrepresented racial and ethnic groups for research careers in the biomedical sciences. And in the fall of 2015, he was back at MiraCosta College, this time immersed in biology. The following summer he was at the University of Illinois for the Summer Research Opportunities Program looking into fresh water ecosystems through an internship for students from underserved communities that led to an academic excellence award. He presented his work, "Is Stream Size a Determining Factor of Species Richness and Total Abundance of Caddisflies (Trichoptera)?" in November at the ABRCMS event in Tampa.
Jaureguy's long-term plans call for a bachelor of science degree at either Cal State San Marcos or Cal Poly San Luis Obispo, a Ph.D. in biology and a postdoctoral program focusing on conservation and sustainability.
"I'm really enjoying what I'm doing, and I've definitely found a home at MiraCosta."