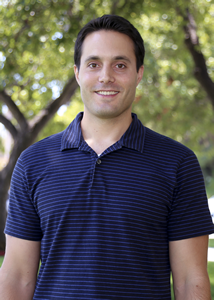 Political Science Professor
A former professor in the California State University system who earned two master's degrees and a Ph.D. from Yale, John Phillips could land a job at plenty of universities. He chose MiraCosta College.
"It's a dream job for people who want to teach at the college level," he said. "This is one of the best community colleges in the nation, it's a model for the state, and it's one of the last remaining colleges that are still committed to teaching."
Phillips' dedication to the classroom comes through clearly to his students, who in May selected the tenured political science professor as Faculty of the Year. He was nominated for his ability to make difficult material easy to understand, creating a welcoming atmosphere, and encouraging debate and questions. Students also cited Phillips for taking a genuine interest in their success and for being accessible.
"He sincerely cares about what schools we got accepted to, what aid packages we received and what we want to do with our lives," said one student.
"To encourage debate, Dr. Phillips often takes on different ideological roles," said another student. "It's very entertaining, and I walk away from each class with a better understanding of the values I hold and the values of people who disagree with me."
Phillips followed a path similar to the ones on which many of his students are embarking. He started off at Long Beach City College, earned his bachelor's degree in political science from Long Beach State University, and then went to Yale, where he earned master's degrees in philosophy and political science. He earned his Ph.D. from Yale, also.
Along the way, he worked in Washington, D.C., for the Department of Education and former U.S. Rep. Steven Horn, a moderate Republican who often worked with Democrats to get things done., and who also had served before as president of Long Beach State for 18 years.
Phillips taught at Cal State Fullerton, but professors at the university level are focused more on research than teaching; and Phillips wanted to teach. He recalled when one of his favorite professors at Long Beach State had earned an Outstanding Teacher Award, "and his colleagues were criticizing him for spending too much time on teaching instead of publishing papers."
One of Phillips' challenges is teaching a subject in which many students have little interest. "A lot of people see politics as a dirty word and they really aren't interested in the subject," he said. "I think one of my strengths is showing students what a fascinating topic political science really is and hopefully turn their views around."
He said being named as Faculty of the Year "means the world to me. One of the reasons we do what we do is to inspire our students. And for them to honor me with this kind of recognition is an amazing honor."