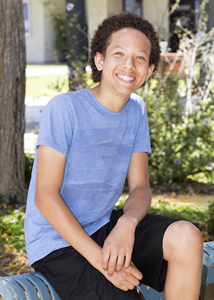 He still has a Snoopy lunch box, he is three years from qualifying for a driver's license, and –his mom says – he is way too young to go out on a date.
But Kyle Litzenberg will be attending MiraCosta College as a freshman this fall – just a few weeks after turning 13.
Kyle, who has been home-schooled all his life, is among the youngest students ever to enroll full-time at the college. He isn't holding back on his schedule, either. Among the classes he is taking are calculus, English and computer science.
"I don't really know what to expect," Kyle said. "I've never attended a public school before. But I know that if you go to class, pay attention to the lecture, take good notes and study, you'll do fine."
Kyle plans to graduate with an associate of art degree in computer science within two years before transferring to UC San Diego for his bachelor's degree in the same field. If all goes according to plan, he will be 15 when he begins classes at UC San Diego and will graduate from one of the nation's leading public universities before turning 17.
Kyle has always been a fast learner. The Jules Verne science fiction novel "Journey to the Center of the Earth" was among the dozens of books he read when he was 4 years old, and he sailed through the 12-volume "Little House on the Prairie" series just a year later. He was 10 when he breezed through the Herman Melville classic "Moby Dick."
Home schooling happened by chance, his mom, Santosha Litzenberg, said. The family moved from the Los Angeles area to the southwestern Riverside County suburb of Murrieta when Kyle was small, in large part for its highly rated public school system. But when mom took Kyle to register for kindergarten, someone – she can't remember who – told her he seemed to be doing fine learning at home.
"I thought I would try it out and reassess it every year," Santosha Litzenberg said. "It just happened by accident."
Kyle graduated from the Greater San Diego Academy Charter Homeschool in June.
It hasn't always been easy. Both of Kyle's parents have been beset with serious medical conditions in recent years. His father, Daniel Litzenberg, a former high school AP science teacher, suffers from multiple sclerosis. His mother has battled cancer.
"But Kyle has been steadfast and persevered despite some difficult circumstances," Kyle's mom said.
Daniel said his son has had his eye on college for a while. "He told us several years ago he wanted to go to college when he was 13," he said. "So we looked at where he was and what he would have to do, and it became apparent it was very do-able. It required a lot of work, and it was challenging, but he was determined to do it."
Both parents note their son is a typical teenager who loves to play video games and hang out with friends. And they are confident that Kyle will excel at MiraCosta College. "As far as the academics are concerned, my wife and I are not worried at all," Daniel said.
Santosha and Daniel Litzenberg say MiraCosta College is a perfect fit for their only child.
"We've met the most fantastic people at MiraCosta," Santosha said. "They have been so accommodating. The counselors there truly are the most gracious, generous, kind people you could ever want to meet. Everybody has been so helpful."
In spring 2017, Kyle earned an associate's degree in computer science and transferred to CSU San Marcos in fall 2017. His goal is to graduate with a bachelor's degree and attend graduate school at UC San Diego.