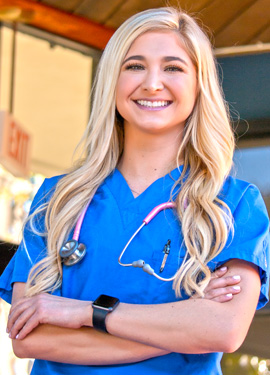 Lauren Flaherty has a great reason for attending MiraCosta College; she wants an affordable, quality education. And the reason for wanting to become a nurse? Flaherty's experiences while suffering through the ravages of Crohn's disease exposed her to "the remarkable medical professionals who helped me through those most challenging times."
Flaherty is like most of the nearly 15,000 students at MiraCosta College taking classes for credit in pursuit of a degree, certificate, transfer to a four-year university, or just to brush up on their skills.
MiraCosta College has what you're looking for.
If you remain unconvinced, ask Flaherty.
"The synergy in the classroom is absolutely amazing!" Flaherty said. "It fuels your spirit and makes you think in a different perspective, challenging your belief system and assists you to reach to new levels of thinking."
Flaherty graduated with an associate degree in nursing in the spring of 2015 and went on to complete her BSN at Point Loma University and graduated in 2017.
"I plan on entering a specialized field as a nurse practitioner, in a doctor's office setting, where I will have direct one-on-one interactions with patients and hopefully make a positive difference to those I come in contact with."
Flaherty is a Southern California native who had what she calls a typical childhood, earned good grades and played competitive soccer. On her 18th birthday, she was stricken with Crohn's disease, an inflammation of the intestines that can cause extreme abdominal pain, weight loss or worse.
By Flaherty's reckoning, she was in out of doctor's offices and hospital emergency rooms for years before the condition could be brought under control. It was during that time, Flaherty said, that "I made one of the most significant decisions of my life, for my career, to be a nurse practitioner. I want to give back and touch lives, like the medical professionals who touched my life and made such a major difference to me. I want to help as many individuals as possible in my lifetime."
The desire to go into medicine is starting to run in the family. A younger brother also wants to become a nurse practitioner and has enrolled at MiraCosta College's Nursing Program as well.
Flaherty, a Carlsbad resident, isn't new to the Oceanside Campus. She started attending MiraCosta College classes during summer breaks in high school.
"I really enjoyed how small and intimate my classes were, and I had really awesome teachers, where I could get one-on-one instruction with very personal, quality rapport. Last year, I took the Certified Nursing Assistant Class at MiraCosta and loved my experience so much. Then, when I was accepted into MiraCosta's Nursing Program, I knew this was `home,' where I wanted to partake in my exciting career journey and complete my nursing educational program."
She has especially high praise for MiraCosta College's intimate class sizes, talented professors and a staff looking out for the student's best interest.
"Consider yourself blessed if accepted into the MiraCosta Nursing Program!" Flaherty said.
Along with her brother who also graduated from MiraCosta's Nursing Program in 2016 and went on to get his BSN, Flaherty is currently working as a registered nurse at Rancho Bernardo Surgery Center while attending Loma Linda University's Doctorate of Nurse Practitioner Program. She will graduate with her DNP in 2022.