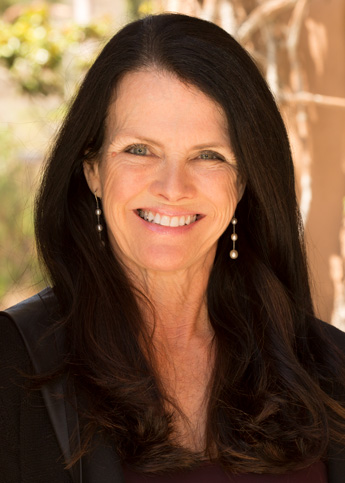 Talk about starting over.
Liliane von Ruexleben was raising two sons, going through a contentious divorce, had no job and was with few in-demand work skills. Then she found MiraCosta College.
Her life hasn't been the same since.
After earning an associate degree with a 3.9 grade point average, von Ruexleben, 53, transferred to UC San Diego, where she graduated summa cum laude and was invited to deliver the June 16 commencement address at Muir College. Now she's working as a digital marketing consultant and looking at a future that could not be more promising.
"I would have never thought that I would have reached this day," von Ruexleben said. "But it shows that it doesn't matter how old you are, it doesn't matter whether you started from the top or from the bottom, you can persevere, you can succeed, and I owe a lot of my success to MiraCosta College.
The road to MiraCosta had more than a few bumps.
Born and raised in Munich – which was then in West Germany, von Ruexleben moved with her ex-husband and their first son to Massachusetts nearly 20 years ago when her ex took a job with a firm that had bought out his IT company. After several years in the New England, the family moved to Naples, Fla., but one hurricane too many convinced the couple to relocate to North County.
That was in 2007. Four years later, the marriage fell apart.
"The marriage was over, I had no career, I had one son in college and another in the eighth grade, and I was no longer living at home," von Ruexleben said. "I needed to do something, so I walked into MiraCosta College's San Elijo Campus and signed up."
Von Ruexleben had just turned 48 at the time.
"I was still pretty traumatized by what was going on in my life, so I just wanted to take one class and see if college was for me," von Ruexleben said. "After taking that class, I said, 'I can do this. Let's make this real.'"
The following spring, in 2013, von Ruexleben dove in, initially declaring a major in business administration but later switching to communications.
"I had the good fortune to have Liliane as a student during a wonderful crossroads in her life," said English Professor Susan Herrmann. "Like many MiraCosta students, she had already navigated troubles and uninvited changes, but was still persevering in a major she had chosen mostly by default. The extraordinary moment for Liliane came when she discovered that she could change her mind and devote her considerable energies and talents to a path that suited her far better. With her intelligence, strength, and grace, she has inspired me, as well as the students who have heard her story."
Most of von Reuxleben's classes were online, allowing her to work and take care of her youngest son while dealing with divorce proceedings. MiraCosta College was a stabilizing influence at a time of immense stress compounded by the passing of her mother.
"MiraCosta was there for me," she said. "The resources are there, and the professors are amazing, absolutely amazing. So warm and welcoming and understanding, not just with me but with all of their students. If you did the work, if you showed up, if you put in the effort, they were there for you and they were determined to do all they could to help you succeed."