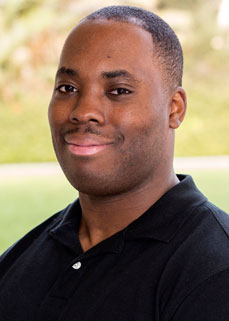 Holding down a job, earning good grades, and maintaining perfect attendance—from kindergarten to high school—is not an easy feat. But that's exactly what MiraCosta College graduate Mario Clay accomplished.
Originally from Jonesboro, Arkansas, Mario's grandparents adopted him when he was only one-week old.
"They are very hard-working people and their attitude got passed on to me. They stimulated me to earn my own money and do well in school," he said.
Mario started working when he was only 15 years old. He recalls cooking catfish at his first job and later got "promoted" to bussing tables.
"It wasn't much, but I made my own money to pay for things I wanted and I was very proud of that," said Mario.
In 2002, Mario graduated from high school and joined the Marine Corps..
"I had work experience and a high school diploma, but I still felt like a kid," said Mario. "I knew the Marine Corps could give me the experience of dealing with adult situations like being independent and learning how to be a leader."
In 2007, after two deployments in Iraq and earning the rank of sergeant, Mario retired from the Marine Corps. Months later, he enrolled in a trade school, where he excelled.
"I became the school's newspaper editor, had perfect attendance and earned straight A's," said Mario.
After graduating from trade school, Mario was placed in jobs that had him working up to 80 hours a week. After two years, he realized he needed change.
"I always knew about MiraCosta College because it's near Camp Pendleton, but I never enrolled," said Mario. "I finally registered and it was one of the best decisions I ever made."
In 2009, Mario enrolled as full-time student, majoring in business administration. He also worked as a counselor at the MiraCosta College Veterans Center, acted as Veteran's Club president and made the President's List, all while managing a part-time job.
His good grades and hard work also earned him several MiraCosta College Foundation scholarships totaling $3,500.
"Scholarships empower students to focus more on their education while they fulfill other obligations outside of college," said Mario. "For me, it reinforced the belief that hard work pays off. Plus, the money allowed me to take some time off from work to focus on my studies and visit my family in Arkansas."
In 2011, Mario earned an associate degree and transferred to California State University, San Marcos (CSUSM), where he majored in business administration with an emphasis in management information systems."
While at CSUSM, Mario made the Dean's List and interned for LPL Financial. He also earned more scholarships, including the $4,000 Pardee Scholarship, the $2,770 Veterans Book Scholarship, and the prestigious $10,000 LPL Financial Scholarship.
"I remember when I received the LPL scholarship I called my grandparents right away and they were very happy, but not surprised," said Mario. "They know I am serious and work hard, which is something that will always be in me."
In 2014, Mario earned his bachelor of science degree and today works as an operations associate in the imaging department at LPL Financial.
With his love of learning, the meaning of hard work his grandparents taught him, and the lessons the Marine Corps gave him, Mario feels he can—and will—accomplish anything.
"To know what you know and what you do not know, that is true knowledge."