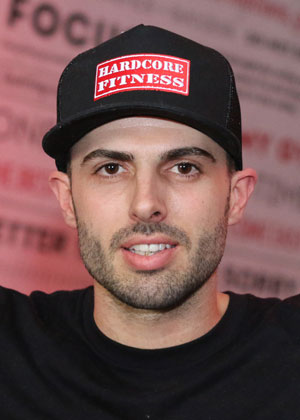 Michael Laird doesn't mince words when he talks about MiraCosta College. "Absolutely awesome" is how he puts it.
And why not? MiraCosta offered Laird an opportunity to move to the U.S. from Australia and play collegiate basketball. It's where he met his future wife, former Spartans soccer star R.G. Ceja. And it's where he learned how to operate the successful business he owns in Vista, Hardcore Fitness North County.
"I owe a lot to that college," Laird said.
Born and raised in Sydney, Laird found his way to MiraCosta College while looking for an opportunity to pursue a future in basketball. "I looked at every community college conference in California and emailed every coach I could find. The only person who called me back was MiraCosta coach Pat Conahan. The next thing you know, I'm pulling up in a train at the Oceanside Transit Center. Coach Conahan picked me up, and the rest, as they say, is history."
Laird manned the point guard position at MiraCosta for three years before wrapping up his collegiate career at Arizona Christian University in Phoenix. He returned to Sydney to try his hand at a professional career, but gave that up and came back to Oceanside in 2015.
Not a fan of the classroom, Laird was nonetheless intrigued about an Entrepreneurship and Small Business class at the Oceanside Campus taught by Cheryl Wadeson and signed up for the course.
"Best instructor ever," Laird said. "The entire class was basically us putting together a business plan, so I put together a business plan on opening a gym. I interviewed a few people, did a lot of research, and now I own my own gym that's doing pretty well."
Neither Wadeson nor Conahan are surprised at Laird's success.
"Michael was one of the most enthusiastic and hardest working players I've ever coached, someone who put every ounce of his energy into getting better," said Patrick Conahan, MiraCosta College's athletic director and head basketball coach. "He's putting that same sort of energy and enthusiasm into succeeding at his business because that's pretty much who he is."
Wadeson agreed.
"I expect this is just the beginning of what I'm certain will be a long and rewarding business career as he pursued his passions."
"Michael represents the diversity of MiraCosta," she added. "While some students attend with the intention of transferring to a four-year school, many come to the classroom looking to build their skill set in a particular area. In his case, he had a clear vision of the type of business he wanted to one day own for which he developed a business plan during our entrepreneurship class. Through connections he made during the class and one assignment, he put himself on the pathway to owning his own gym."
Laird said the dedication of people such as Conahan and Wadeson is what makes MiraCosta College so special.
"I just had coffee with Mrs. Wadeson a couple months ago," he said. "That a teacher who I took just one class from two years ago met with me for a couple hours during a recent Sunday to look over my business plan and offer a couple suggestions is pretty awesome. That, to me, says a lot about the passion the faculty and staff at the college have for their students."