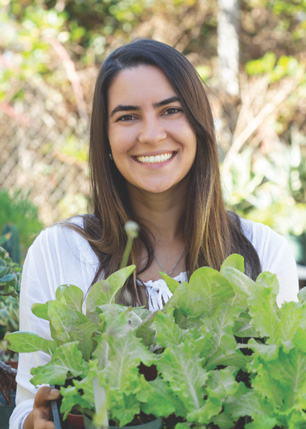 Suzanne Almeida arrived from Brazil with a growing passion for sustainable agriculture and organic farming. She found what she was looking for at MiraCosta College's new Sustainable Agriculture degree and certificate program.
"I saw what MiraCosta College was offering, and it matched completely with my interests," said Almeida, who hails from Salvador, the capital of Brazil's northeastern state of Bahia. "The program is composed of people who are committed to what they do."
MiraCosta Horticulture Department began offering the Sustainable Agriculture degree and certificate program last year in response to an escalating demand for the farm-to-table and organic experience. The program provides hands-on training and classroom instruction in the concepts and practices of organic gardening and small-scale farming. The curriculum was created in partnership with the San Diego Farm Bureau and an advisory board, with courses ranging from Soil Science and Integrated Pest Management to Organic Crop Production: Warm Season, Organic Crop Production: Cool Season and Organic Crop Production: Specialty Crops.
Almeida, 30, had long been interested in organic and small scale farming in Brazil and had opened a thriving small business selling ready-to-go, small gardens using herbs, organic composting soil and liquid biofertilizers. Almeida accompanied her fiancée when he moved to California to earn his MBA at San Diego State University, and she almost immediately began scoping out available programs in the region.
"I had some experience in sustainable agriculture on a small commercial scale, but I did not have the technical and academic background," she said.
It didn't take long to settle on MiraCosta College. Only one other community college in the region offers a similar program, and the nearest four-year sustainable agriculture program is some 100 miles north in Los Angeles County.
Instructors speak highly about Almeida and her dedication to the program.
"She is passionate and enthusiastic about the work that she does in my class and in her internship while staying mindful of the larger perspective and the role our program plays for the community at MiraCosta," said associate faculty member Abigail Ferrieri. "Sustainable agriculture is not only about growing food in a way that aligns with our environment, but it also encompasses many timely issues like climate change, social justice and food security. Suzi is dedicated to these issues and aims to help build a community around farming and food production on campus."
Said Almeida:
"People should get more connected with nature. Everybody is very involved with a digital approach to everything, you always have to be connected. But sometimes that means we get disconnected from ourselves."
The advantages that come with sustainable agriculture?
"A better quality of food," said Almeida. "It tastes better, it's much healthier. We are getting further and further away from where our food comes from. We need to get back to nature."
Almeida hopes to graduate next year. But she's finding new passions and undiscovered avenues to pursue in the meantime. Organic soils. Water management efficiency. And more.
When she completes her studies, she hopes to work as a consultant with those working at school and community gardens and with homeowners looking to plant a few crops in their yard.
Meanwhile, Almeida is a student worker in the Horticulture Department contributing to a project that provides the produce from Organic Crop classes to the MiraCosta College cafeteria – a true farm-to-table experience.
"I love what I am doing, and I appreciate everything MiraCosta has done to help feed my passion and contribute effectively in a green movement in the world."