The Art Department offers theoretical and practical courses in the traditional disciplines of art and art history as well as digital and photographic arts. Students may take courses to prepare for a major in art or art history, to meet general education requirements or for personal growth.
Career Options
Career directions include working artist, teacher, graphic designer, photographer, sculptor, curator in a museum or gallery, conservator, appraiser, or work in various related fields such as marketing and advertising.
Faculty Voice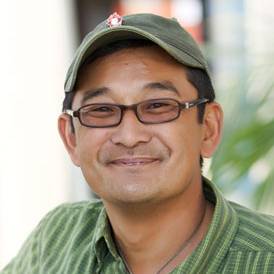 Yoshimi Hayashi
Yoshimi Hayashi moved to the United States from Japan when he was a child. As a teen, he returned to Japan to study ceramics and apprenticed with world-class ceramic sculptor Hiroshi Ikehata. "I had to learn all the basics all over again," says Yoshimi. "It was a great experience learning with such a tremendous potter and contemporary sculptor. To this day, I still use those skills I learned in Japan."
Read More About Yoshimi-
Academic Programs in Art
The academic maps will give you an idea of the classes you need to take. However, please meet with a counselor to personalize your education plan.
KEY: Certificate of Proficiency Certificate of Achievement Associate Degree Bachelor's Degree
Additional Resources
Contact Information
Chair
Academic Division Assistant
Dean
Admin. Assistant to the Dean
Full-Time Faculty
Associate Faculty