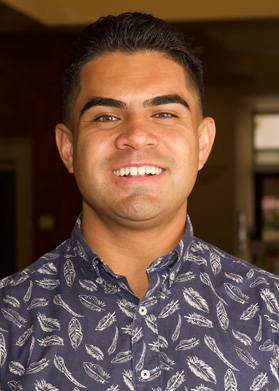 Carlos Castro is the MiraCosta College PUENTE program.
Castro, 22, is set to earn an associate of arts degree in liberal arts – with an emphasis in social and behavioral behavior this spring, he hopes to transfer to a top University of California campus this fall, and he is determined to earn a Ph.D. in English and launch a career as an English professor – preferably at MiraCosta College.
"My dream is to help my community," said Castro, who also plays on the MiraCosta College men's soccer team.
That's quite a switch from just a few years ago when Castro was expelled from high school. He credits PUENTE with helping him reach his dreams.
PUENTE students work closely with counselors until they graduate, explore career options, develop an academic education plan, meet with mentors, tour both California State University and University of California campuses and attend an annual PUENTE student transfer conference. Foremost, however, is the community of support and belonging that PUENTE provides.
"Just being in a classroom with people who come from a similar background, who are determined to succeed, who want to get involved and who want to stay involved with the community, makes a big difference," he said.
PUENTE Counselor Sinar Lomeli is among Castro's biggest fans.
"Carlos Fernando Castro balances academics and athletics while maintaining a high GPA, preparing for transfer and currently awaiting admission decisions from UC Berkeley, UCLA, UC Irvine, UC Santa Barbara and UC San Diego," Lomeli said. "He has shown leadership by representing PUENTE as the student representative for Barrio Empowerment Committee, attending the PUENTE Writer's Institute, serving as a mentor for the Oceanside Promise Male Success Initiative and as a student organizer for PUENTE Adopt-A-Classroom with the Vista Unified School District. He is an excellent writer and I have no doubt that his talents will result in his success as an English professor in the near future."
His future had not always been so bright.
"Education had zero importance to me after the sixth grade," said Castro, who says substance abuse sidetracked his interests for nearly a decade. Indeed, Castro barely made it through middle school. He was expelled from El Camino High School. As a junior at Ocean Shores (Continuation) High School, a counselor told him he was in danger of not graduating.
"It was a reality check," Castro said. Determined to prove the counselor wrong, Castro signed up for an after-school, credit-recovery program and made up two years of high school credit within a few months. That enabled him to return to El Camino, where he graduated in the spring of 2014. College, however, wasn't even an afterthought.
"Nobody in my family had ever gone to college," Castro said. "I didn't know that was an option."
More than a year later, however, he saw a friend's social media post noting the advantages of MiraCosta College. Castro enrolled in the fall of 2016, but continued substance abuse led contributed to a dismal semester academically.
The change, he said, came when his mother's birthday was approaching and he had no money to buy her a gift. "The only thing I could give her was to resolve to change my life."
Sober now for more than two years, Castro has been an academic star, not to mention a mentor and model to others. The key, he said, was PUENTE.
"Being involved in school, being engaged in class, it just made me feel like I belonged, it made me feel good about myself," Castro said, who also credited soccer coach Frank Zimmerman with having a profound impact on his life.
"Coach Frank Zimmerman is without a doubt an Oceanside legend," Castro said. "Through his powerful moral speeches I was able to build my confidence, leadership, and teamwork not only in the classroom, but at my home with my family."
Zimmerman speaks just as highly of Castro.
"The turnaround has been impressive," Zimmerman said. "All of a sudden he's in PUENTE, he's playing soccer at MiraCosta, and he's applying to places like UC Berkeley with dreams of earning a doctorate degree. It's an amazing story."