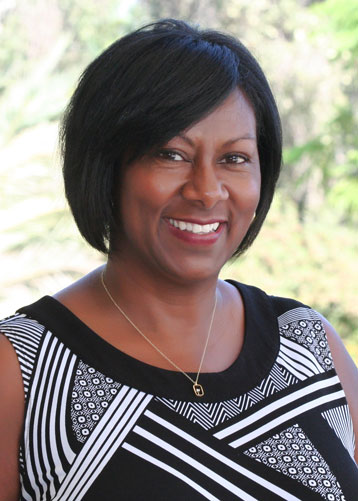 Associate Vice President of Institutional Advancement
Cynthia Rice, former Associate Dean of Student Services at MiraCosta's San Elijo Campus, has been named MiraCosta's first Associate Vice President of Institutional Advancement. Rice's selection gives her direct oversight of college public relations and marketing, governmental affairs, advocacy, the MiraCosta College Foundation, and a five-year, $8-million fundraising campaign to support the MiraCosta Promise.

"I'm very excited," Rice said. "It's a great opportunity for me to continue to provide leadership for the long-standing tradition of excellence at MiraCosta College. My goal in this position is to ensure strong leadership for integrity of processes, inspire current and future donors to new giving levels, and ensure the College is a key force in the community with a stellar reputation," Rice said.

Rice began her career in higher education 27 years ago at UC San Diego, where she was tasked with marketing and managing extensive corporate meeting planning services to national business groups for large industry conferences. Rice also served as UC San Diego's coordinator of student activities. She refined her fundraising skills as director of educational programming at the Carter Center, a nonprofit founded by former U.S. President Jimmy Carter. Moreover, Rice brings over 14 years of experience serving student populations in the greater San Diego community in various supervisory and director level roles.
"Cynthia is a wonderful addition to our executive leadership team, and her wealth of experience in outreach, fundraising, and community relations makes her a perfect fit for the position," said MiraCosta College Superintendent/President Sunita "Sunny" Cooke.
Rice's first order of business is growing the MiraCosta College Foundation's endowment by $8 million within the next five years to support the MiraCosta Promise, a recently launched program offering tuition-free education for a student's first year of college. The MiraCosta Promise is vital because approximately 75% of MiraCosta College students are working to support themselves, and nearly half subsist on an annual individual income of less than $18,000. The MiraCosta College Foundation, which was created in 1967, now has an endowment of approximately $8 million and contributes nearly $500,000 annually in scholarships for students and nearly $470,000 to support a variety of campus programs.
How does one go about raising $8 million? "I've heard it said time and time again that a goal without a plan is just a wish. I'm a real believer in developing solid project plans and then working the plans. Communication is also key," Rice said. "Communicating the needs of the institution and actively listening for indications where the donor's interests align with the campaign. The best donors and messengers for a cause are the people who feel passionate about it."
Her strategy also calls for increasing the number of MiraCosta College Foundation directors and growing the role of the Foundation's Business Roundtable, which raised $250,000 for a new STEM Learning Center at the Oceanside Campus last year.
Education and learning has always been a focus for Rice.
Rice earned a bachelor's degree in interdisciplinary studies from National University and a master's degree in international relations, with an emphasis in peace and conflict studies, from Alliant International University (then called United States International University).
After serving in several positions at UC San Diego and developing a proven track record for success, MiraCosta College hired Rice in 1991 to launch the Institute for International Perspectives, which was tasked with building the college's study abroad program while also attracting greater numbers of international students. In just two years, the Institute grew the number of international students studying at MiraCosta College by fourfold.
Alketa Wojcik was the first student Rice recruited in MiraCosta's Making a Difference Program. Today, Wojcik is MiraCosta's vice president of student services.
"When I graduated from MiraCosta 20 years ago, we had the choice of selecting anyone at the college to give us the diploma," said Wojcik, who came to MiraCosta College from Albania. "Without even thinking twice, I chose Cynthia. She was the strong and confident role model woman that I wanted to be. She had the most positive impact in my life as a student, and I'm grateful to be her colleague now. She is a visionary, compassionate and a strong advocate for students."
It was those qualities that led to Rice's hiring at the Carter Center as director of educational programs, where she served from 1999 to 2002 and where her fundraising skills led to $400,000 in contributions annually. She left the Carter Center to help build a successful family-owned real estate management firm in Atlanta, then returned to MiraCosta College when she was hired as the development officer for the MiraCosta College Development and Foundation Office in 2011 after moving back home to help care for her mother.
Four years later, Rice was hired as associate dean of student services at the San Elijo Campus, a post she held until September 8, 2017, when she was named associate vice president for institutional advancement.
"I'm very excited about this new position and I'm very excited about what the future holds for MiraCosta College," Rice said.