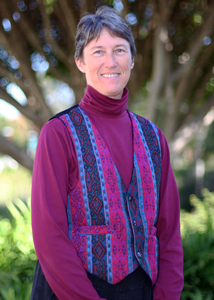 Faculty Director of the MiraCosta Writing Center
Denise Stephenson's goal for her sabbatical project was to write 100 pages of fiction. Although she was already the author of twenty academic articles and book chapters, as well as several monologues and plays, Denise had never written a cohesive work of fiction longer than five pages, a common length for student assignments. She felt that the task of writing 100 pages of fiction would be as daunting for her as the task of writing a three to five page paper is for many college students and would therefore help her step into the shoes of the student writer. Today Denise is the published author of a 385-page dystopian novel titled "Isolation," something she never imagined she could or would accomplish, and something she calls "the most exciting thing I've ever done."
Since her return from sabbatical, Denise has read excerpts from her novel and discussed her experiences as a writer in dozens of classrooms. "Being able to share a portion of my novel with students gives me credibility as a writer and produces unexpected learning opportunities," explains Denise. "Students have reacted to these readings with a level of engagement I have never seen before in my twenty year career." In addition, Denise has used what she learned through her novel writing struggles and triumphs to enrich the training Writing Center consultants receive. For instance, her experience with the various types of feedback she received on her novel has helped Denise guide writing consultants through exercises designed to improve the feedback they give to student writers.
Denise savors the community college experience. Her first degree was an AA she earned from Iowa Central Community College, and now, as the Faculty Director of MiraCosta's Writing Center, she has returned to the educational atmosphere she most admires. Denise explains the social justice appeal of the community college environment this way, "America is all about equal opportunity, but when we're born, our circumstances are far from equal. Some are rich, some come from well-educated families, some have various kinds of social privilege because of race or sex or language, while others don't have these advantages. I think a community college is one of the equalizing forces in the U.S., especially in California where the cost per credit hour is quite inexpensive, relatively speaking."
Following her Associate degree, Denise earned a Bachelor's degree in Radio and TV Communications from the University of Northern Iowa and studied theology at the Master's level at the Graduate Theological Union of Berkley. Her Doctorate in American Studies, from the University of New Mexico, is an interdisciplinary degree that allows her to teach English, Humanities, Film, and Communications courses. At MiraCosta, Denise has taught the 20th Century portion of American Studies as well as Gender Communications. Being an interdisciplinary scholar is also an advantage in running a Writing Center that serves the entire college community. Denise directed three other Writing Centers before launching MiraCosta's in 2004. The Writing Center now employs thirty people and assists student writers on all three campuses.
Denise loves to travel; she has lived in the San Joaquin Valley, Berkeley and Oceanside areas of California, Iowa, West Virginia, Alaska, New Mexico, Nevada, and Michigan and has visited each of the other fifty states. She also creates book arts, artistic expressions which meld form and content in unique or limited edition books. Denise has shown six of her book arts pieces in galleries and art shows, and has several new pieces in development.