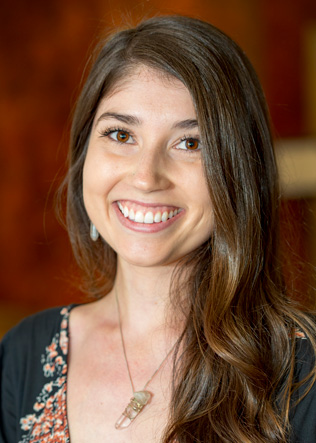 Helen Rigby has conquered more than her share of challenges. She's dealt with bipolar disorder since she was a teen. She was bullied as a child because of her weight. She was the primary caretaker of her father after he suffered a stroke. She is forced to endure the ravages of endometriosis and has been treated with chemotherapy. But Rigby this spring graduates from MiraCosta College with associate degrees in psychology, kinesiology and human development – and a high school diploma to boot.
She will be the student speaker at MiraCosta College's 84th annual commencement on May 24. Her message?
"MiraCosta College has helped me find my life's purpose," said Rigby, 25. "I didn't know who I was until I came here. All the classes I took, every experience I had, helped me become a better version of myself, an authentic version of myself, and gave me the strength to be comfortable with who I am."
The lifelong Vista resident said she is speaking about her odyssey for one reason.
"I decided to put myself out there to help connect with people who have felt alone in the same ways I have," she said. "I want people to know that they are never alone on their journey and that it is not a sign of weakness to ask for help, but a sign of strength."
Rigby embodies strength. She has been hospitalized twice for suicidal ideation. Still, she persevered. She earned her 200-hour and 500-hour yoga certifications at MiraCosta College, she has her own business – the Chronic Wellness Goddess – that focuses on therapeutic yoga instruction with the elderly, Parkinson's patients, stroke recovery victims, and others living with physical disabilities. Plans include growing her business while continuing to work as a mental health advocate dedicated to serving those with mood and anxiety disorders.
"I'm really happy about what I've been able to accomplish," she said.
The obstacles were many. Rigby had what she called an "nontraditional upbringing," an upbringing that kept her from experiencing a traditional education. She was 11 before she took her first math class and 17 before she was enrolled in her first English class. Her late start kept Rigby from earning a high school diploma until now. She the rare student earning a high school diploma at the same time as an associate degree.
Rigby is among the estimated 2,000 graduates in the MiraCosta College Class of 2018. Commencement is scheduled to begin at 5 p.m. in front of the Administration Building on the Oceanside Campus, 1 Barnard Drive. Admission is free and parking permits are not required.
This year's ceremony will include MiraCosta College's first class of graduates earning a bachelor's degree in biomanufacturing through the state's Baccalaureate Degree Pilot Program.
"It's going to be a very special day," said Rigby.