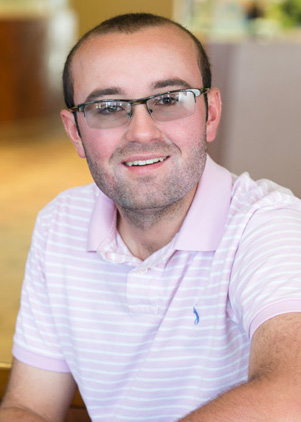 MiraCosta College student Jake Scornavacco is the epitome of perseverance.
Two years after his parents opened the popular Sweet Things Frozen Yogurt shop in 4S Ranch, Scornavacco's father passed away from pancreatic cancer. Scornavacco at the time was just a junior at Torrey Pines High School, and he had already taken over the business operations as a freshman, putting in a full 40 hours of work each week without skipping a beat on his classes. In the midst of all of this, the family opened a second store near the San Diego Convention Center.
Scornavacco said MiraCosta College has played a key role in his success. He's on his way toward earning an associate degree and plans to transfer and secure a bachelor's degree in hospitality management from San Diego State University.
"I look at the adversity I've faced as motivation," he said. "I want to make my father proud. Getting a good education was paramount to my father, and by continuing my education and continuing the business, I feel like I'm helping to keep his legacy alive."
Scornavacco has won over several admirers along the way.
"Jake is a remarkable person with extraordinary drive to pursue his academic and career goals," said Dana Smith, former Dean of Letters & Communications Studies at MiraCosta College. "I'm so pleased MiraCosta could meet him where he needs us to be, providing him with resources and motivation to persevere. Jake is a testament to the awesome power of self-determination born of challenge – something community college is especially well suited to support."
The Scornavacco family opened Sweet Things Frozen Yogurt in 2009 and had just opened the second store at the Hilton San Diego Bayfront when Scornavacco's father succumbed to his illness. Scornavacco served as general manager/managing partner at both sites until closing the 4S Ranch shop in September of 2015, in part so he could concentrate on his studies.
He also cut back on his other business interests, which included working as a guest service agent for a Del Mar hotel and as a catering coordinator for FOX Sports Grill in San Diego.
The education he is receiving at MiraCosta College, he said, is worth it.
"MiraCosta College has helped me tremendously," said Scornavacco. "It has given me what I need to succeed, helped me run the business more efficiently and improve my communications skills.