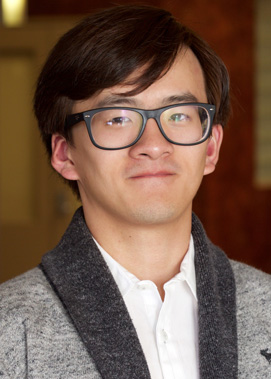 New country? New culture? New language? No problem.
Meet Junjie "Leo" Fang, one of five recipients of the 2017 Medal of Honor, the highest academic achievement award at MiraCosta College. Less than a year after arriving in San Diego County from his hometown of Suzhou, China, following his 2015 high school graduation, Fang enrolled at MiraCosta when he found he had missed an application deadline for UC San Diego.
Good thing. With a 4.0 grade point average and MiraCosta College associate degree in hand, Fang is transferring to UC Berkeley this fall to study chemical engineering.
"It was a good decision to come here," he said. "MiraCosta is a beautiful campus, I've had a lot of support from my professors, and the people here are super nice."
Fang picked up more than his share of admirers along the way.
"He moved here by himself and really didn't now the language or the culture and didn't know too many people, either," said Edward Pohlert, a mentor who serves as MiraCosta College's faculty director of Retention Services. "His adaptability to a new environment has been impressive."
Fang wasn't planning on enrolling at MiraCosta College when he first arrived here in 2015. His educational roadmap pointed to UCSD, where he quickly enrolled in an English language program offered through the university's Extension. From there, he was hoping to enroll as a full-time student studying chemical engineering, but he missed a deadline to apply as an international student and opted to investigate MiraCosta College instead.
"MiraCosta was one of the few community colleges that was still taking applications, so I came up for a visit, saw it had a very nice campus, and learned about its very high transfer rates."
Fang devoted himself to his studies from the moment he arrived. Enrolling in up to 22 units per semester, he had little time for anything else. Fang did, however, serve as a math, physics and chemistry coach in the Tutoring and Academic Support Center (TASC).
Pohlert said Fang stood out from the day he arrived at the tutoring center.
"His way of explaining concepts is impressive," Pohlert said. "He has mastered the art of tutoring in a very difficult subject."
Fang, who earned his associate degree in mathematics, said his long-term plan include a master's degree in chemical engineering and working in a career focused around materials science and engineering.
Said Pohlert: "Junjie is the promise of what a community college experience can have."