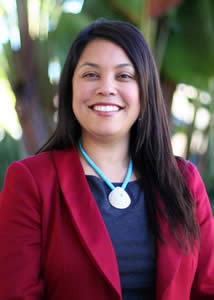 English Instructor
One by one, the students who were being honored at a dinner for completing the PUENTE Project at MiraCosta College talked about the challenges they had overcome, then walked over to Professor Maria Figueroa-Chacon, and with tears in their eyes, gave her a warm embrace of thanks.
Figueroa-Chacon, they said, was someone who cared. Someone who pushed them to succeed. Someone who refused to give up.
Figueroa-Chacon is an English instructor at MiraCosta College who also serves as co-coordinator of the PUENTE Project, an effort aimed at Latinos that combines an emphasis in English composition, counseling and mentoring to boost the number of disadvantaged youth who enroll in and graduate from four-year colleges and universities. Affiliated with the University of California, PUENTE Project staffers train high school and community college instructors and counselors "to implement a program of rigorous instruction, focused academic counseling, and mentoring by members of the community," according to its web site.
A first-generation college graduate from a working-class family with roots on both sides of the border, Figueroa-Chacon grew up in Santa Ana and earned her bachelor's degree in theater (with minors in ethnic studies and Spanish literature) from the University of California, San Diego. After earning her master's degree in comparative literature from Dartmouth College in New Hampshire, Figueroa-Chacon returned to California and began teaching English composition part-time at San Diego City College, Mesa College, and San Diego State University, and theater at Cal State San Marcos before securing a full-time, tenured position at City College.
It was while teaching English composition at City College that Figueroa-Chacon became involved with the PUENTE Project. "It is a project that is open to all students, regardless of ethnic background," she emphasized. "It is an opportunity many students are looking for."
Figueroa-Chacon said coming to MiraCosta College in 2008 was one of the best moves she has made.
"MiraCosta College has so much to offer as far as resources and what we can provide to our students," she said. "And there is a commitment to embracing a more inclusive representation of the community."