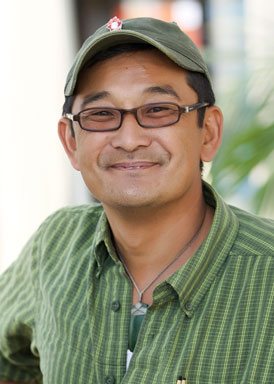 Art Instructor
Yoshimi Hayashi moved to the United States from Japan when he was a child. As a teen, he returned to Japan to study ceramics and apprenticed with world-class ceramic sculptor Hiroshi Ikehata. "I had to learn all the basics all over again," says Yoshimi. "It was a great experience learning with such a tremendous potter and contemporary sculptor. To this day, I still use those skills I learned in Japan."
When Yoshimi returned to the United States, he obtained a bachelor's degree in psychology from UCLA. He then moved to Northern California where he pursued a master's degree in psychology at California State University, Stanislaus.
Yoshimi contemplated getting his Ph.D. in psychology, but he soon decided that he wanted to pursue his true passion: ceramics. He then enrolled at the University of New Mexico and obtained a Master of Fine Arts degree.
"I tell my students, it's not always easy to do whatever you want to do. Sometimes you have to follow a road that you may not have expected," he explains. "But, you have to do what you truly believe in."
Yoshimi joined the Art Department at MiraCosta College in 2001 to teach ceramics and sculpture. He is currently the department chair. He is well liked by his students, who nominated him for the 2005-2006 Outstanding Tenured Faculty of the Year Award.
"Yoshimi has been described by students as extensively experienced, encouraging and supportive," says Ben Leavitt, the 2005-2006 Associated Student Government president.
Yoshimi accepted the award during the 2006 commencement ceremonies.
"I think the MiraCosta Art Department is fabulous," says Yoshimi. "It is the people in the department who make it so special. We are all able to work together on different projects and still have our own different voices. My students always say, "This is like being at an art school for $46 a unit!"