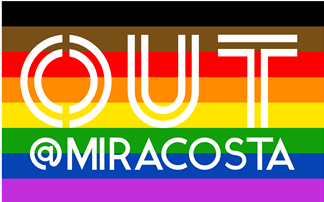 Out @ MiraCosta is a campaign that heightens the visibility of LGBTQIA+ identified faculty, staff, and administrators. This list was created to promote LGBTQIA+ inclusion, foster a campus culture in which everyone feels valued, establish a sense of community, and signal to LGBTQIA+ MiraCosta College students that they have representation and support within the faculty, staff, and administration.
This list is not exhaustive and does not include every member of the LGBTQIA+ community here at MiraCosta College. We understand that there are many obstacles that prevent people from being "out" and open about their identity. It is our desire that list serve as a constant reminder that all LGBTQIA+ people deserve to live in a world where they feel comfortable being open about their identities.
Participation in this campaign is voluntary and restricted to MiraCosta College staff, administration, and faculty. If you are a member of the LGBTQIA+ community and are interested in being listed on the Out @ MiraCosta list please complete the form.
Wear Your Pride!
OUT @ MiraCosta t-shirts are available at teespring.com/miracosta for $25
Who is Out @ MiraCosta?

Steven Deineh
sdeineh@miracosta.edu
Librarian, Instruction & Student Engagement
Chair
Steven serves as the chair of the LGBTQIA+ Caucus (ASCCC) and co-founded the first LGBTQIA+ training series here at MiraCosta (Safe Space Program). In addition to working on LGBTQIA+ equity initiatives at MiraCosta since his hiring in 2010, Steven is passionate about teaching students critical information use skills that will benefit them in and out of college. In 2016 he completed the Graduate Certificate in LGBT Studies at San Diego State University.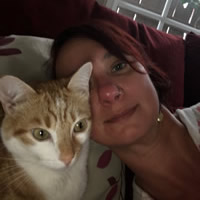 Joanne Carrubba
Associate Faculty, Art History
jcarrubba@miracosta.edu
Joanne is a professor of Art History at MiraCosta and 3 other colleges in the San Diego area who uses gender and cultural studies in her classrooms as a means to understand the artists behind the artworks.

Tina Helmstreit, She
thelmstreit@miracosta.edu
Coordinator, Student Success and Support Program (SSSP)
Oceanside and CLC Campus
Bi
Tina is yon-sei generation, Japanese American hapa, queer, and proud. Tina received her Associates in Social and Behavioral Sciences from MiraCosta College and graduated from CSU, Fullerton with her Bachelors in Sociology. She has worked in higher education for over 8 years and is passionate about creating equitable experiences for students.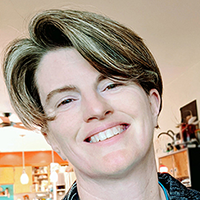 Leigh Cotnoir, She
lcotnoir@miracosta.edu
Faculty, Instructor
Oceanside Campus
Queer
Leigh Cotnoir is a designer, artist, programmer, and educator in web, print, and interactive arts. She has been teaching since 2000 and joined the MiraCosta Media Arts and Technologies faculty full time in 2015. Leigh's selected design work and other media work is available at leighcotnoir.com. To view her teaching site, you can visit learn.leighcotnoir.com.

Jodi Mulhall, She
Staff, Student Equity
Oceanside Campus
jmulhall@miracosta.edu
Queer
Jodi Mulhall brings her knowledge of critical theory to her teaching, research, and student services work. As an instructor at UCSD and University of San Diego, equity and inclusion have always been at the core of her pedagogy, which informs Jodi's work in the Student Equity Department at MiraCosta College, where she currently serves as Interim Director. Jodi also serves as the Campus Liaison for LGBTQIA+ Affairs and co-advises the GSA.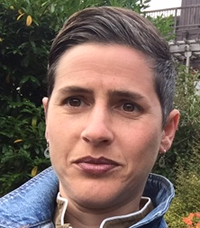 Sara Cassetti
Library Technician III, Public Services
scassetti@miracosta.edu
Sara is the supervising library technician at the San Elijo campus library, where she works to create a student-centered, engaging environment. She incorporates her background in gender studies, linguistics, and cultural anthropology into her approach to library access services and student training.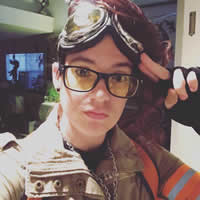 Jordan Barber
Instructional Computer Lab Assistant, AIS
jbarber@miracosta.edu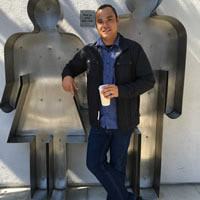 Sean Davis, Him
sdavis@miracosta.edu
Faculty, Sociology Instructor
Oceanside Campus
Queer
Sean teaches Introduction to LGBT Studies, Introduction to Gender Studies, Introduction to Women's Studies, and Introduction to Sociology courses at Miracosta College. He is passionate about teaching, learning, and mentorship. When he is not engaged in these activities, he is hanging out with family, reading, writing, and shooting hoops in his front yard.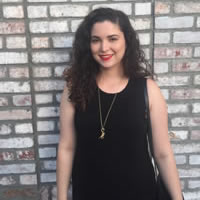 Alexis Faust, She
afaust@miracosta.edu
Faculty, Associate Faculty in Anthropology
Oceanside Campus
Pansexual
Alexis owes her passion for anthropology to her experience as a student at MiraCosta College. Her research interests include Andean and Near Eastern archaeology, primate conservation, intersectional feminism, class, sexuality, and gender.

Cheryl Wadeson
Associate Faculty, Business
cwadeson@miracosta.edu
Cheryl teaches Small Business Management, Marketing and Promotions courses, which include an examination of the slow but growing shift by brands to adopt a more inclusive view in advertising and brand promotions.

Elise Weaver
Associate Faculty, Astronomy
eweaver@miracosta.edu
Elise's passion for astronomy dates back to preschool, and after a very circuitous education/professional path, she is overjoyed to be at MiraCosta teaching Astronomy for the first time and working with the public at star parties on campus. She has been engaged in astronomy/physics public outreach since 2003, and active in the LGBTQIA+ community since 1998 when she came out as bisexual.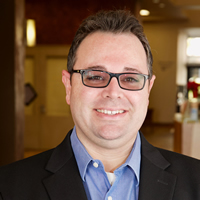 Nick Mortaloni, Ed.D. LCSW, Him
nmortaloni@miracosta.edu
Dean of Student Affairs
Oceanside Campus
Queer
Nick is the Dean of Student Affairs, where he oversees Student Life and Leadership, Associated Student Government (ASG), Chariot Student Media, Health Services, Athletics & Intramurals, Student Conduct, and the Campus Assessment, Resources, and Education (CARE) programs. He is also a Deputy Title IX Coordinator for the district. Nick was an LGBTQ Studies minor at UCLA, and he completed his master's research and thesis on providing mental health services with the LGBTQIA+ community.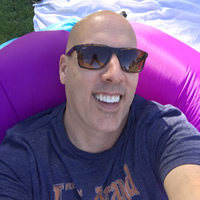 Donny Munshower, Him
dmunshower@miracosta.edu
Faculty, Veteran's Counselor
Oceanside Campus
Gay
I specifically work with the Veterans and Military population on campus, but want to help all LGBTQIA+ students feel welcome on campus. Feel free to come say hi!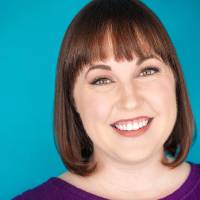 Gerilyn Brault, She
gbrault@miracosta.edu
Faculty, Drama
Oceanside Campus
Bisexual
Gerilyn Brault teaches several Theatre classes at MiraCosta and is a professional actor and director in the San Diego area. She is proud to represent one aspect of the beautifully diverse spectrum of Bisexuality. She wished she had more bisexual people out when she was younger because she might have realized sooner that she had a place in this wonderful LGBTQIA+ community. She is now dedicated to helping other students feel safe on their own journeys of identity and discovery.

Alicia López, she
alopez@miracosta.edu
Faculty, Sociology and Chicana Study
Oceanside
Queer
Besides identifying as queer, I also highlight my experience as a first-generation Chicana and college student, daughter of poor/working-class Mexican immigrants, born and raised in the border region of South San Diego, CA. These are decisive elements that make up who I am and my vision for life and my teaching philosophy.

Mx. Van Levy, they
vlevy@miracosta.edu
Associate Faculty Mental Health Counselor
Oceanside
Queer, trans, AFAB (Assigned Female at Birth), and non binary
I am a mental health counselor in Health Services and I am nBPOC (not Black Person of Color). I have been an advocate, educator, and activist for the trans community since before 2000. I provide consultation, trainings, education and therapy all over the United States. I am a published author of the book Exploring My Identity(ies), which is an interactive book designed for all people and ages to explore their identities and create safer spaces for themselves and others.
For more information on these services and programs contact:
Jordan Sanchez
She/they
Interim Student Services Specialist
Oceanside Campus
760.757.2121 x6900
jsanchez@miracosta.edu@miracosta.edu
LGBTQIA+ Equity is a service of the Department of Student Equity. For general inquiries about all Student Equity programs and services, please contact us at studentequity@miracosta.edu or call our main office at 760.757.2121 x6900.