The Medical Administrative Professional program prepares students to work in medical office settings. The program includes training in procedures used in medical offices, clinics, and hospital settings as well as HIPAA compliance, electronic health record, medical coding, and health insurance practices. Students are encouraged to complete an internship in a medical facility.
Careers Options
Career options include Medical Biller, Medical Coder, Medical Front Office Assistant, Medical Receptionist, Medical Records Clerk, Medical Scheduler, and more.
Staff's Voice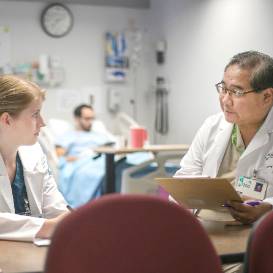 Sandy Comstock, Associate Dean of Nursing
"Our population is growing and getting older. The Medical Assistant Program helps the medical industry meet the growing need for well-trained workers. This program is perfect for someone who wants to work in a challenging, exciting environment, and who wants to help people."
Medical Assistant Program Website-
Academic Programs in Medical Administrative Professional
The academic maps will give you an idea of the classes you need to take. However, please meet with a counselor to personalize your education plan.
KEY: Certificate of Proficiency Certificate of Achievement Associate Degree Bachelor's Degree
| | | |
| --- | --- | --- |
| Medical Insurance and Coding Specialist (FT) | MAP | CAREERS |
| Medical Insurance and Coding Specialist (PT) | MAP | CAREERS |
| Medical Office Clinical and Administrative Professional (FT) | MAP | CAREERS |
| Medical Office Clinical and Administrative Professional (PT) | MAP | CAREERS |
| Medical Office Professional | Map | CAREERS |
| Medical Office Professional | MAP | CAREERS |
| Medical Office Specialist | MAP | CAREERS |
| Patient Care Coordinator | MAP | |
Additional Resources
Contact Information
Chair
Academic Division Assistant
Dean
Admin. Assistant to the Dean
Full-Time Faculty
Associate Faculty