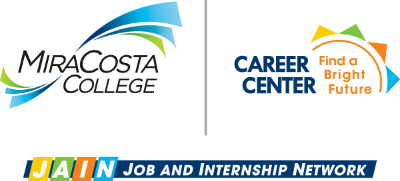 JAIN (Job and Internship Network) is the MiraCosta College online database where students can search for and apply to jobs or internships, see which departments are recruiting for on-campus student workers, upload their resumes for review, report employment or internships, and access job search resources. JAIN is accessible online 24/7 to all MiraCosta College students. Please login with your SURF ID and password to get started!
Find a Job on JAIN
Have you been hired? Let us know about it! Report your Job on JAIN.
Internships & Co-Operative Education
Would you like your resume reviewed before you apply?
Upload your resume in JAIN and have it reviewed by the Career Center by doing the following:
On your JAIN dashboard click on your Profile Summary and select "Yes" to the question "Would you like your resume to be reviewed for employment opportunities?"
Before submitting your resume for review use the Career Center's resources to get started.
Are You Graduating?
Let the Career Center help you find your dream job! Make sure that your JAIN profile is complete and that you have opted-in to receive Career Center news and events emails. This will allow us to send you job and internship announcements in your field of study as they become available on JAIN.
If you have any questions about JAIN or need assistance navigating JAIN, please contact the Career Center at 760-795-6772 or chat live with the Career Center, or contact Erica Gheorghin at egheorghin@miracosta.edu.
Technical Notes
The JAIN app relies on the usage of internet cookies. Optimal cookie settings will vary depending on your browser, but you must have your browser configured to accept cookies to use the JAIN GTS application. Currently, JAIN GradLeaders supports Internet Explorer versions 9 and above along with the latest version of Mozilla Firefox and Google Chrome.