2022 Commencement Ceremony
MiraCosta College will host an in-person commencement ceremony on Friday, May 27, 2022 at 5 PM on the Oceanside Campus at the Athletic Track & Field.
Graduates that would like to participate are strongly encouraged to RSVP now!
The commencement ceremony will be live-streamed and viewing parties will be hosted in designated locations around campus. More information coming soon.
The Adult High School/High School Equivalency commencement ceremony will be held in-person on Thursday, May 26, 2022 at 6 PM at the Community Learning Center. Grads who would like to participate should RSVP now. Please contact ncstudentsupport@miracost.edu with any questions.
Event Parking
In preparation for MiraCosta College's commencement ceremony on May 27th, College Police will be closing off certain parking lot(s) and section(s) of the roadway on the Oceanside campus. Please plan accordingly and give yourself extra time for the changes.
Parking Lot Closure
On Thursday, May 26th after 11pm, OC Lot 4C will be closed off to all vehicles. A section of Lot 4C will be open for vehicles accessing the Shipping/ Receiving Department (6100 and T600). Lot 4C will remain closed to the general public until after 5pm on Friday, May 27th. The parking lot will be monitored by College Police. Any unauthorized vehicles parked in Lot 4C during the closure are subject to a citation and/ or towed at the vehicle owner's expense.
On Friday, May 27th from 3:30pm to 5:30pm, vehicles parked in Lot 5A at the Oceanside campus will only be permitted to enter the parking lot. After 5:30pm, vehicles can exit the parking with the assistance of traffic control provided by College Police. Vehicles exiting the parking lot will only be allowed to turn left onto Barnard Drive as the northbound lane will remain closed for pedestrian access until the conclusion of the college's commencement ceremony.
Temporary Road Closure:
On Friday, May 27th, College Police will temporarily close off a portion of the road affecting vehicles traveling north at Barnard Drive to Lot 5A and Lot 4C on the Oceanside campus. The closure will reduce Barnard Drive from 2-way traffic down to a single 1-way traffic lane. The closure will be effective at 2pm. Please pay attention to updated traffic signage and drive slowly around the area. College Police will monitor traffic. All vehicles entering the college from College Blvd/ HWY-78 will be redirected to make a left turn on Barnard Drive near the construction zone to access the college.
Parking Lots open for commencement
College Police will not enforce parking permits to guest attending the commencement ceremony. Most guests will be directed to park in Lot 4C and Lot 5A. If the parking lots are full, parking will be available in the following parking lot: Lot 2A, 2B, 3A, 3B, 3C and 3E. Follow MiraCosta College Police Department's social media page and the college webpage for parking updates regarding Commencement.
ADA Accommodations for Commencement
Designated Seating
There will be wheelchair accessible seating for a guest and one companion.
Deaf and Hard of Hearing
There will be sign language interpreters on stage for the commencement ceremony.
Field Access
Please note for all graduates and guests, the entrance to the Athletic Track & Field has an ADA compliant ramp. There will be volunteers and passenger carts available to assist guests who require assistance entering and exiting the field. Please keep in mind that there will be no wheelchairs or motorized scooters available at the ceremonies for individual use.
If you are interested in ADA accommodations, please email Maria Gallardo at mgallardo@miracosta.edu by Friday, May 6 in order to ensure accommodations can be made.
Where Can I Purchase My Cap, Gown, and other regalia?
Any online orders after April 25, 2022 may be charged with expedited fees and/or their order arriving late. However, students can purchase their regalia at the Bookstore to avoid those fees.
Student may order their regalia online here. If you have questions about Commencement regalia please check these FAQs.
Need to order flowers for a graduate? Please click on the link to pre-order flowers for commencement!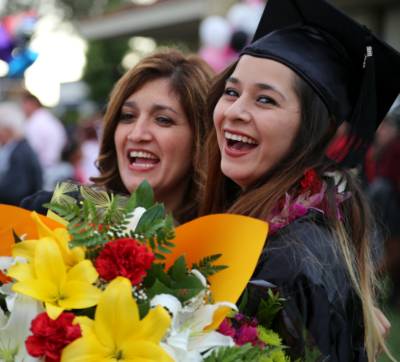 Cap and Gown Fund
The MiraCosta College Cap & Gown Fund was created to provide an equitable opportunity for graduating students to participate in commencement events. All graduates are eligible to apply and priority will be given to students who have been identified as disproportionately impacted according to the MiraCosta College Student Equity Plan.
Watch the 2021 Commencement Ceremony here
Do you have questions about 2022 Commencement Ceremony?
Contact the Commencement Hotline at 760.757.2121 x8976 or Student Life & Leadership via email at graduation@miracosta.edu.